A New York resident has shared a surprise discovery at a local store.
Willy Staley says he's noticed tins of processed meats such as SPAM are being locked up to prevent theft.
He made the discovery at a Duane Reade store inside the Port Authority bus depot in Midtown Manhattan.
Celebrity ham has also been locked away.
READMORE: The Duchess of Cambridge helps Team GB claim victory in Commonwealth sailing race
"I've never seen this before," one of his followers commented.
Although others say they have seen SPAM locked up in stores in Hawaii.
"They have been locking up SPAM for years IN Hawaii," added another.
Another said: "I visited family in Hawaii last year and was shocked to see this at their local Walmart. I never expected to see something at the level of Spam to be a focus of loss prevention. And I'm someone who actually likes the stuff!"
"SPAM gangs," added another.
Others have reported that tins of SPAM aren't even placed on shelves at their local stores for this reason, and are kept behind the counter.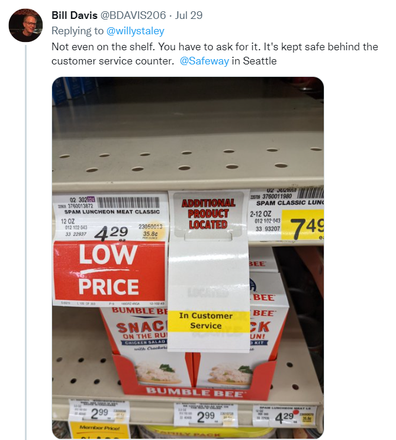 To this one person says: "Is retail theft that bad in Seattle? I've never seen anything like that in my life. Only stuff behind locks/counters I've ever seen is electronics and pricy makeup."
"Is SPAM such a high theft item," added another.
One person said: "Never expected to see a photo like this. My ex-husband would call Spam, 'meat of questionable origin'. To see a can of Spam in a theft deterrent container is an unexpected Surprise."
"I nominated this for Tweet of the Year," added another.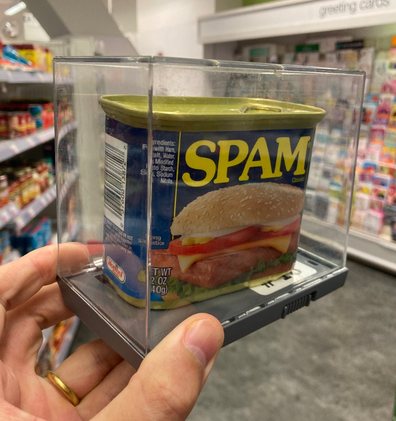 It has been reported theft in midtown Manhattan has increased by 40 per cent, leading to measures such as this.
Some are blaming the increasing cost of food. Another's point to the pandemic which has led to more homelessness.
In Australia tins of SPAM cost $6.30.
For a daily dose of 9Honey, subscribe to our newsletter here.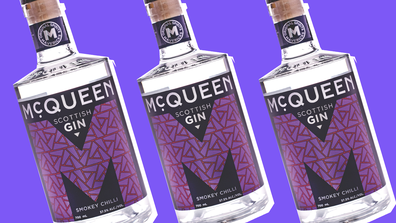 The latest food and beverage products you need to know about