Singer Ne-Yo has responded to cheating claims made by his wife, Crystal Renay.
The R&B favorite addressed Renay's claims in a message posted to Twitter on Sunday, one day after she alleged he was unfaithful throughout their entire eight-year marriage.
"For the sake of our children, my family and I will work through our challenges behind closed doors," Ne-Yo – real name Shaffer Chimere Smith – tweeted. "Personal matters are not meant to be addressed and dissected in public forums. I simply ask that you please respect me and my family's privacy at this time.
READMORE: Princess Charlotte makes rare video appearance
It was on Saturday that Renay, who is a model and TV personality, claimed the 'Because of You' singer cheated with not one, but many women during their marriage.
"8 years of life and deception. 8 years of unknowingly sharing my life and husband with numerous women who sell their bodies to him unprotected … every last one of them," the 36-year-old wrote in a statement posted to Instagram.
"To say I'm heartbroken and disgusted is [an] understatement. To ask me to stay and accept it is absolutely insane. The mentality of a narcissist."
READMORE: Why tins of SPAM are being locked up in some stores
Renay said she was not going to keep up the façade any longer as she owed it to the couple's three children – sons Shaffer, six, and Roman, four, and daughter Isabella, two – to live her truth.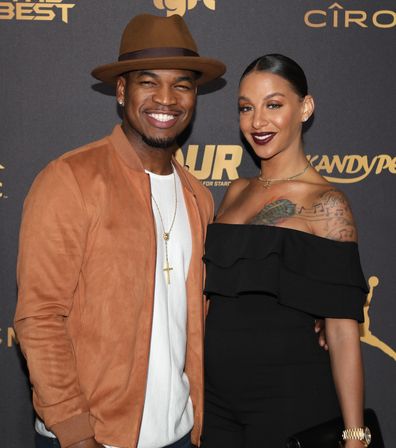 "I will no longer lie to the public or pretend that this is something it isn't," she continued. "I choose me, I choose my happiness and health and my respect. I gained 3 beautiful children out of this but nothing else but wasted years and heartache."
In her post, Renay – who married Ne-Yo back in 2016 – also her followers to refrain from sending her videos or information about her estranged husband's alleged cheating because "what he does is no longer my concern".
READMORE: Aussie rapper diagnosed with debilitating condition
"I ask that you all please stop sending me videos and information of him cheating because what he does is no longer my concern," she added. "I am not a victim. 'm choosing to stand tall with my head held high. If someone can't love you the way you deserve then it's up to you to love yourself. With no hate in my heart, I wish him nothing but the best."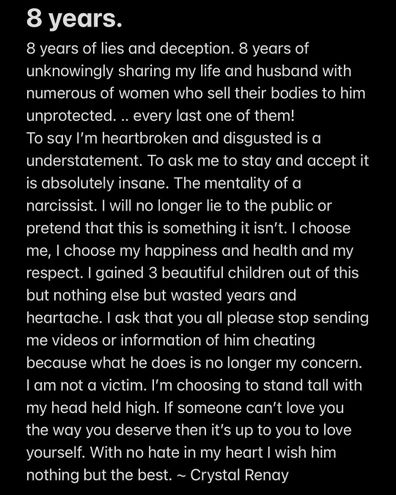 The cheating scandal comes just three months after the pair renewed their vows in a lavish, red-themed ceremony in Las Vegas, with the couple sharing several loved-up videos on Instagram after the event. Watch one of the clips above.
"Where some might see a smart-ass mouth, what I saw was a mouth that has no problem letting it be known what's on the lady's mind, thus making it easier for a worldly man to understand her," Ne-Yo said in an Instagram video at the time as he praised his wife's quirks. "Where some would see attitude, I saw confidence. A woman with knowledge of self-worth, absolutely refusing to accept anything less."
Meanwhile, Renay also gushed about her famous husband, saying: "This weekend means the world to me. Everything that it's about, everything that it is, and the fact that I get to do it with you. I love you forever and always. A million times, a million years, I always choose you."
For a daily dose of 9Honey, subscribe to our newsletter here.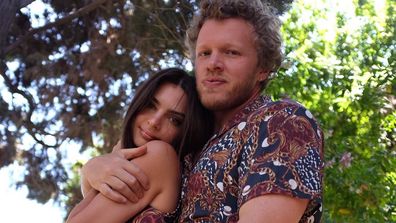 Model focusing on 'being a mum' following marriage breakdown