"People are doing this stuff already. It would be much better if the council fixed the underlying problem and allowed them [electric car owners] to do it in a safe way."
Councilor Jolly referred to similar trials being undertaken by local councils in the UK, where shallow trenches are dug into the footpath to embed charging cables or chargers are installed in street lights.
The kerb model would only be for residents who live in detached homes and those who had paid for a charger would not have ownership of the car spot next to the charger, as it remained on public land.
But despite these issues, Jolly said he believed the move could be a "small, worthwhile addition to the fight against climate change and encourage electric vehicle use".
If the Yarra council agrees to a motion on Tuesday night, a report with various options would be created by council staff and presented at a later date for a decision.
loading
A similar motion will also be considered at a Hobsons Bay City Council meeting next Tuesday.
Independent Hobsons Bay councilor Daria Kellander, who is bringing the motion, said she had also been contacted by a resident who canceled an order for an electric car because of the lack of charging facilities in the area.
"When we look at our municipality, we only have three public electric vehicle chargers in an area with 100,000 residents and one has been down [out of order] for a number of months," she said.
"Governments are implementing planning changes for future developments, but no one has looked at the legacy [residential] issues and that's something that needs to be addressed."
Melbourne company Kerb Charge is partnering with Port Phillip Council for its trial, which was greenlit in September last year. The first charger will be installed this month.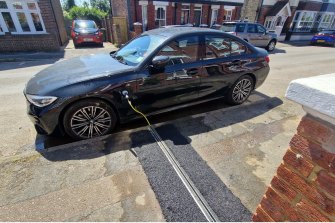 Kerb Charge spokesman Rod Walker said the units to be placed next to residential street gutters were "about as tall as a Coke bottle and a bit wider in circumference". The chargers can slide flat into the ground when not in use and can even be mowed over.
The most recent available data shows there were 10,311 electric vehicles registered in Victoria as of June 2021, up from 6749 the previous year.
Electric car chargers across the city have been plagued by ongoing faults and outages that providers have blamed on supply chain issues.
The Morning Edition newsletter is our guide to the day's most important and interesting stories, analysis and insights. Sign up here.