"I'll dry off and we'll have a big cuddle. He does not understand what this is all about today, but these experiences I'm sure will be an important part of his development. It means a lot," she said.
Since her last bronze medal Stenson has married (she was previously Trengove), had Billy and she said motherhood had made her a better runner.
"I'm a more relaxed runner as a mother. I can just enjoy the process a bit more. I really wasn't thinking about the outcome today I was just trying to tick off each 5k and that's what you do as a mum you can't think too far ahead it's just one moment at a time and you can't control it you just have to respond to what is happening and I think that gives women a lot of strength as parents," Stenson said.
"I was trying to juggle being excited and soaking it in with concentrating (in the final stages when it was clear she was well ahead and set to win). These roads can be uneven and it only takes one little step for me to land flat on my face and not get up again. I just had to deliver myself to the finish line.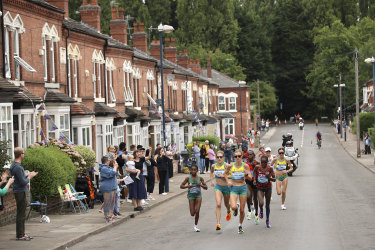 "I was coming into the home straight and I saw the 1K to go sign and thought 'you're joking'. It was a long final K. I kept tricking myself, saying 'this is the final hill, no this is the final hill' and they kept coming."
She now has time to celebrate with a burger and maybe a cheeky beer.
All three of Australia's female marathoners made the top five after Stenson was joined by Eloise Wellings in fourth in 2:30:51 and 45-year-old veteran Sinead Diver fifth in 2:31:06.
Earlier, Liam Adams delivered an extraordinary performance in the men's marathon to lead for most of the race and finish just seven seconds off the podium in fourth place.
A full-time tradesman in Melbourne, he had never seen the course before, his app didn't work so he hadn't worked out the route and was then dismayed to discover when he confronted it that there was a punishing long uphill climb the last five kilometers.
"It's tough, but I will take that, I'm pretty proud of that run, those guys are professionals, I'm amateur, I'm working 40 hours week they're not, they are probably running 40 hour weeks," said Adams who was at his third Commonwealth Games and ran the last two Olympics.
"Those guys are world-class 2:05 2:06 type guys, I'm not in their league. I just thought try and stick with them and hold onto them and I did alright considering."
Adams went out to lead for more than half the race because the pace began too slowly. He admitted he probably paid the price later on.
Uganda's Victor Kiplangat won gold in 2:10:55, Tanzania's Alphonce Simbu silver and Kenya's Michael Githae. Adams finished in 2:13:23.
De Rozario continues dominance with gold
Madison de Rozario racing in the wheelchair is like Usain Bolt sprinting in his prime. When he raced he won. When Australia's wheelchair marathoner competes she wins.
De Rozario won another gold medal, this one a second successive Commonwealth marathon gold to go with her twin golds from the Paralympics in Tokyo last year, her three world para championships gold and then there are the innumerable silver and bronze.
The win came as Australia's De Rozario won her marathon in 1 hour 56 minutes, winning by 3.45 minutes from Eden Rainbow-Cooper of England.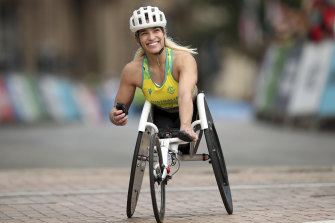 "The actual course though was one of the hardest marathons I have done in my life with the most brutal part of it being the last 5k which is the cruelest way to have to end the marathon. Definitely a tough race, I am definitely feeling it," de Rozario said.
That she would win another gold was likely given the long CV and the bursting trophy cabinet, that she would do so in Birmingham had a sense of even greater expectation given the size of the field.
There were four athletes in the race: two Australians, two English. There was no bronze medal awarded due to the size of the field.
"Regardless of the size of the field it's an incredibly elite field … yeah it was a small field but it was a tough race."
loading
Meanwhile, Australia's Jake Lappin finished fifth in the men's wheelchair marathon in 1:56:21, 15 minutes behind gold medalist Johnboy Smith from England.
Get all the latest news from the Birmingham Commonwealth Games here. We'll be live blogging the action from 4pm-10am daily.