Melbourne actor Samuel Johnson was three weeks out of hospital and days out of a neck brace, recovering from a near-fatal pedestrian accident, when artist Jeremy Eden came to paint his portrait.
Johnson had been asked before, but it was to Eden, an unrepresented artist from Sydney's inner suburb of Balmain, that he granted a sitting. Both had lost loved ones to cancer and knew the debilitation of a serious brain injury (in Eden's case, a family member). And Johnson had admired Eden's "stunning" 2021 portrait of actor Firass Dirani.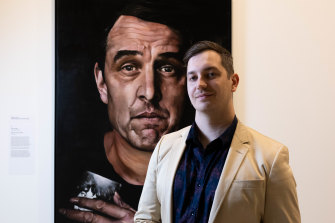 "I knew from the setting that I was in the right hands. I was interested in this photo-realism, this new style of his. He didn't want to paint a version of me, he wanted to paint the real me," Johnson said.
The portrait of Johnson – his face crushed with grief, clutching a photograph of the artist's late mother, Annette, while summoning memories of his own late sister, Connie – struck a chord with the voting public.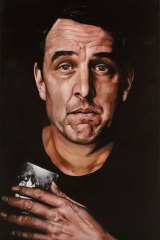 On Wednesday, Eden's painting was named the Archibald Prize's people's choice, selected from among 52 finalists on display at the Art Gallery of NSW. Eden won the $5000 cash prize with what was only his second entry in the prize.
Johnson came to public prominence as an actor and established the cancer charity, Love Your Sister, in 2012. The foundation has since raised over $15 million for the fight against the disease that claimed his sister's life in 2017.
Eden lost his mother to aggressive cancer nine years earlier.
"I'm stupid proud of that young man," Johnson said. "What people do not know is that when he lost his mum, his mum left what little she had to him. He used that to become the painter he is today. It's so rewarding to see a man who deserves it get treasured."