NSW Premier Dominic Perrottet has sacked his small business and fair trading minister Eleni Petinos, after allegations she bullied workers emerged during a horror week for his government.
The premier said he had confidence in Petinos last week after alleged media reports the MP berated staff with offensive language including the words "retarded" and "stupid", triggering the departure of multiple staffers since she was promoted in December.
But in a statement issued on Sunday night, Perrottet said he had spoken with Petinos after "some further matters concerning her were brought to my attention" and moved to stand her down immediately.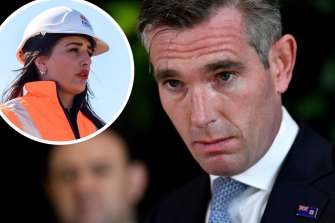 "In light of these matters, Ms Petinos' service as a Minister will cease with immediate effect, and I will write to the Governor in this regard tomorrow," Perrottet said.
He said Customer Service Minister Victor Dominello would assume Petinos' portfolio responsibilities.
The bullying allegations against Petinos came during a week of crises for the Perrottet government that saw pressure mount on Trade Minister Stuart Ayres over his potential involvement in the controversial appointment of John Barilaro to a New York trade role.
The state's first building commissioner David Chandler – whose role was overseen by Petinos – also quit his position prematurely last Monday, leading Labor to demand that the Miranda MP explain the reasons for Chandler's "dramatic" resignation.
Labor's better regulation spokeswoman Courtney Houssos said Chandler had "worked for more than 40 years in one of the toughest industries, yet barely lasted seven months working for this minister".
Last week the premier said Petinos had denied the allegations reported by News Corp, as he stressed that an anonymous complaint to the Department of Premier and Cabinet about her conduct had been dealt with appropriately.