Second, the All Blacks' next move on their coaching setup – whether they keep Ian Foster or find a replacement for a job that has a hint of 'poisoned chalice' at this stage of the World Cup cycle.
It's been hard to ignore the Wallabies' injury woes this year, and it is certainly felt in New Zealand that the Chiefs under Rennie were frequently pushed to breaking point and beyond.
The Wallabies are obviously trying to find the sweet spot: being able to play a highly abrasive style of rugby while keeping their players on the field. It's certainly extremely challenging to play against when the Wallabies get it right. They have some enormous athletes in Taniela Tupou, Rob Leota and Rob Valetini, who can subject opponents to 80 minutes of relentless ball-carrying.
At the moment, even their wings and centers have the same mentality: run hard and run often. Perhaps they lacked a bit of nuance in that last 15 minutes against England, but they went pretty close to winning that series by virtue of their out-and-out physicality alone.
If you attach Dan McKellar's technical excellence to that hard-edged running, it creates a package that may not win any prizes aesthetically, but very much captures the zeitgeist for Test rugby in 2022.
The Wallabies, in fact, are probably close to assembling their own Bomb Squad to match the Springboks' 6-2 split: Rennie could comfortably pick a second tight five on the bench and have Reece Hodge and Tate McDermott/Jake Gordon as his only backline reserve.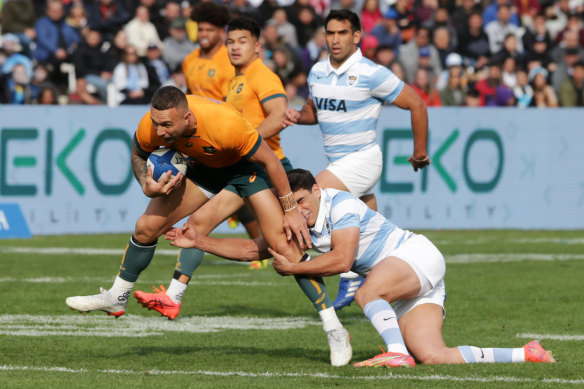 At present, the Wallabies players seem to be largely at peace with this relentless style. It has unquestionably brought out the best in Folau Fainga'a, while Tupou looks a full 10-15 kilograms lighter than he was in Super Rugby. The question is: how long can they keep playing this way?
The All Blacks, by contrast, have not been playing with a clearly defined identity for a while. Their lapsed catch-pass skills mean they can't play a fast-fast style, their pack does not generate enough turnover ball to create unstructured play, and the use of tactical substitutions and constant stoppages in Test rugby have removed fatigue as a factor.
They are, in fact, somewhat lost and that is why the Wallabies probably wish they were heading to New Zealand this week to secure the Bledisloe Cup. That window is open.
loading
A warning, though: it may not stay open. The work of new forwards coach Jason Ryan was evident in the All Blacks' loss to the Springboks last weekend, and they suddenly looked more organised. Even if Foster keeps his job, Ryan's positive influence is likely to grow.
If Foster loses his job, more changes will come. Scott Robertson – if he can be persuaded, and that's a big if – Joe Schmidt and Warren Gatland are all in the background, and all three have enjoyed a level of success that has eluded Foster.
The Bledisloe window could therefore be shut firmly on the Wallabies' fingers, leaving them to regret the change in Rugby Championship scheduling that has worked against them.