"There are no signs of demand slowing down through winter. COVID-19 continues to pose a high risk to Victorians and will do some for some time," said Ambulance Victoria's interim chief executive Felicity Topp.
loading
Ambulances were called to 97,928 code one cases from April to June this year, making this quarter the busiest in Ambulance Victoria's history.
There were 16 per cent (or 13,487) more "lights and sirens" cases compared to this time last year and 4,694 more than the previous quarter.
A small improvement to the number of Victorians waiting for "planned" or elective surgeries was reported, with the wait list now at just above 87,000, a decrease of about 1600. There was also an almost 50 per cent increase in patients receiving their surgeries compared to the previous quarter.
However, the data does not include the peak of the latest Omicron wave, which disrupted elective surgery as beds were taken up by COVID-19 patients and staff fell sick with COVID, the flu and other winter illnesses.
Victorian Health Minister Mary-Anne Thomas said it was not yet possible to say with confidence whether the elective surgery waiting list would continue to decline over the months to come.
"We're still feeling the impacts of COVID in our healthcare system. In this quarter that we're in right now, we've seen significant hospitalizations with COVID, we continue to see furloughing, but we've put in place a series of reforms and I hope to see those continue to deliver outcomes," she said.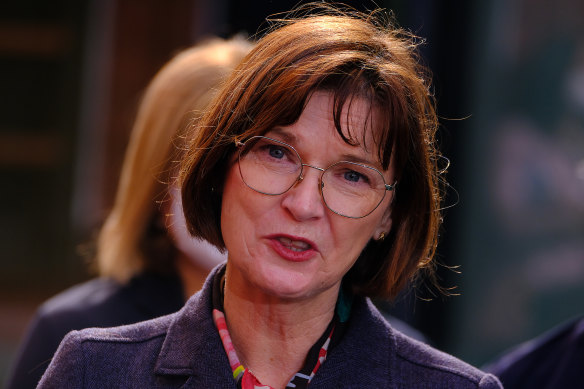 "We are working with all of our health care services to ensure that everyone on a waiting list is being actively managed. If anyone is concerned about increasing pain, or they're worried about their symptoms, please go and see your GP."
Although the number of patients being treated in emergency departments has not risen in the past year, the number of those who are presenting seriously ill has, with hundreds more requiring resuscitation.
"We deduce that this is a consequence of people deferring care that they need, so please go and see your GP if you're at all concerned about your health," Thomas said.
Shadow health spokeswoman Georgie Crozier said the ambulance response times were not good enough.
"Every second counts for a code one, and those targets are nowhere near being met. This isn't just caused because of COVID. It's years of underinvestment and mismanagement by the Andrews Labor government."
Our Breaking News Alert will notify you of significant breaking news when it happens. Get it here.