Late on Sunday, the premier announced his decision to sack Petinos from his ministry, releasing a statement that "further matters concerning her" had come to light.
Barilaro's CV and the panel report that recommended his candidacy for US trade commissioner will also be released on Monday in the eighth tranche of documents produced under order.
The papers, which had been marked privileged by the government, can be seen after an independent arbitrator ruled they could be made available to the public with minor redactions.
Emails, briefing notes
Other documents include emails relating to West's recruitment and briefing notes to Ayres and department secretary Amy Brown.
Brown is scheduled to make a return appearance on Wednesday at the inquiry. Brown, who the government maintains was the final decision-maker, previously said she was told to stop the recruitment of West "due to a change in government policy".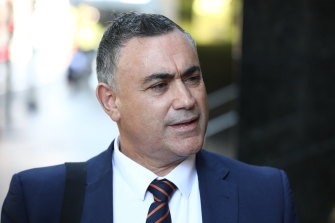 The committee is expected to ask Brown about any directions she received from Ayres as the responsible minister.
Recently released documents have placed Ayres closer to the trade appointment, despite his saying he did not act on Barilaro's cabinet submission and that he ensured the positions remained public service decisions.
Another Liberal who requested anonymity to speak freely called on Ayres to do "the honorable thing" and step aside.
"We need our best team in the paddock, and he needs to have a long hard think about what his future entails."
In a statement, Ayres said he always respected the independence and apolitical nature of the public service, which selected Barilaro after an "independent and meritorious" recruitment process.
"I continue to reject any proposition that suggests the Americas role was created, or its recruitment orchestrated, for the benefit of John Barilaro. Indeed, I find this suggestion offensive."
Ayres later published a lengthy statement on social media, defending the process that Barilaro appointed, insisting it was a decision of the public service in which he could not intervene.
"Not liking Mr Barilaro or his style of politics is not a suitable reason to reject his application, let alone not select him for the role," it said.
Ayres wrote that "integrity and politics" were at the heart of the issue, and accused NSW Labor of attacking his personal integrity to target his seat of Penrith, which he holds on a wafer-thin margin.
Opposition treasury spokesman Daniel Mookhey said the new documents would shed light on the process under which Barilaro was appointed and they would also raise questions about the role played by Ayres.
Timing 'concern'
Mookhey said the timing of the briefing note to Barilaro about West's appointment in August last year was concerning.
"It's awfully suspicious that there is this mad rush to prepare and pass a cabinet submission to let ministers pick the Americas candidate after the deputy premier gets a brief about who the secretary chose for the job," he said.
The inquiry has previously heard evidence that Barilaro asked for a cabinet minute to be prepared in mid-September to make the commissioner roles ministerial appointments.
Barilaro did not respond to a request for comment. He is scheduled to front the inquiry on August 8 and 12, book-ending the first parliamentary sitting week after the winter break.
The Morning Edition newsletter is our guide to the day's most important and interesting stories, analysis and insights. Sign up here.