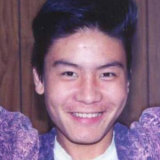 "His mum, she doesn't sleep well. We hope he is somewhere."
Di immigrated from China to Australia with his family as an eight-year-old boy, before settling in Melbourne's southeast where he attended Dandenong High School before working alongside family as a plasterer.
In December 2000, a fire gutted the Hampton Park home he shared with his mother and stepfather. Investigators said when the family learned the fire was likely caused by a stray cigarette, Di felt responsible.
In the months that followed, he moved to his father's Dandenong South home but became increasingly depressed and withdrawn before vanishing in February 2001.
Hayes, a detective with the Dandenong Criminal Investigation Unit, said an extensive police investigation had failed to locate the 21-year-old, with police even reaching out to their Sydney and New Zealand counterparts after potential sightings were reported.
No bank activity or movements using his passport have ever been found or any confirmed sightings.
"He blamed himself for the fire and there was a lot of stress on the family at that time," Hayes said.
Solving the case really lies in the hands of the public now. Somebody out there must know something. Someone must have spoken to him since."
As part of National Missing Persons Week, launching today, the faces of eight long-term missing persons – including Di – will feature on buses and other public billboards in an attempt to help find answers.
The campaign called Without Them, aims to help people identify with the missing and consider their own response to having a loved one disappear.
There are currently more than 2,500 long-term missing persons in Australia with 53,000 reports made across the country in 2021 alone.
This year, about $2.5 million worth of donated space, including billboards and buses, will be emblazoned with the photographs of the eight missing persons put forward by each state and territory.
Acting Assistant Commissioner Jason Kennedy, from the Australian Federal Police, said the annual week of action aimed to raise awareness of the issues surrounding such cases including the endless unanswered questions left behind.
"I encourage all Australians to take a look at the profiles of our long-term missing, share the posts and keep the families of those missing in your thoughts," Kennedy said.
Naomi Busbridge, whose brother Paul Baker went missing from the Northern Territory in August last year, said the fallout for families was heart-wrenching.
"There are so many questions and no answers. You wonder why, you wonder where, and you wonder if you will ever see them again," Busbridge said.
"You wonder if this will ever end or whether it will be like a giant void… forever."
For more information visit www.missingpersons.gov.au.
Our Breaking News Alert will notify you of significant breaking news when it happens. Get it here.