After five decades of ownership, the Thomas family are calling last drinks at their sprawling Oaks pub on Sydney's lower north shore. A price tag of about $175 million is expected, which would make it the biggest sale in the sector's history.
Oaks Hotel owner David "Taffy" Thomas said that after many unsolicited offers, he was ready to sell the Neutral Bay pub, famous for its 80-year-old oak tree that dominates the beer garden.
In April, former Sydney lord mayor Nelson Meers shelled out $160 million for the Crossroads Hotel in the western suburbs, reflecting the large appetite for the pub sector.
In May, the well-known Minskys Hotel, also on the lower north shore, sold for $39 million to the Karellas family with publican Mitchell Waugh.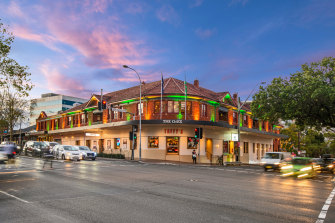 The Thomas family bought the leasehold of the 2188-square-meter property in 1975 from Tooth & Co and have worked to make it the most well-known pub in the area.
David Thomas's son and family representative Andrew Thomas said that given the offers, "it just feels like the right time for the family to move on, and we'll leave The Oaks with fond memories and many friends."
"It holds a very special place in the Australian hotel landscape, and we look forward to seeing its next incarnation under the new custodians," he said.
Boosting the pub's price tag is the mixed-use zoning and favorable planning guidelines that will enable a new owner to add five levels to the site.
Over the past few years, The Oaks has undergone extensive renovations to change the front bar, on the corner of Military and Ben Boyd Roads, into Taffy's Sports Bar, create Alala's Cocktail Bar and the Bar & Grill restaurant, add more lights to the oak tree and upgrade the beer garden.