"I've been around the world – at my expense, I might add – looking at the best stadiums all over the world. This is right up there," Shepherd said.
"Wembley and Tottenham Hotspur Stadiums are the ones to benchmark against. They are bigger stadiums but designed with the consumer in mind. It's about making the customer experience as good as you can in terms of food and beverage, access, seat comfort, view lines, all of those sorts of things."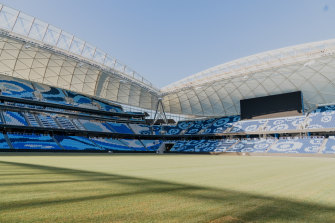 The old Sydney Football Stadium provided rain cover to only 30 per cent of patrons, with that figure now at 100 per cent. There's an exclusive area inside that allows patrons to watch the teams warm up – coaches can choose to frost the glass if they want privacy – before they run out.
Renowned Indigenous artist Tony Albert designed the illustrated artwork across the outside seats, which are set on the same gradient as those at CommBank.
"The concept is 'Two worlds colliding'," Albert said. "Whether through friendly or very fierce competition, it's about this engagement of two separate groups. Culturally I've decided to do that through the land and the sea; one end of the design is the ocean through the bubbles and the other is landmarking through this cross-hatched design.
"It was an opportunity to tell the story and for the people to engage with the artwork literally, they are literally sitting on it."
"I've been… looking at the best stadiums all over the world. This is right up there."

SCG Trust chairman Tony Shepherd.
The stadium was delivered on time, despite the obstacles presented by the torrential rain that battered the worksite.
"We were three days away from laying the turf before the flood hit, which was one of the biggest issues we had," said Evergreen Turf project supervisor Chris Chapman.
"We finally laid it last Monday week."
The Roosters-Rabbitohs match is the first of three big sporting events in five days; the Wallabies will host reigning Rugby World Cup champions South Africa on September 3, before the Matildas take on reigning Olympic champions Canada on September 6 in an international friendly.
Robinson believes the new stadium will provide the best possible experience for fans.
"We want them to come," Robinson said.
loading
"They love rugby league or whatever sport they enjoy in that stadium, but they get to experience it in a modern way.
"That was the reason the stadium was redone; it wasn't as much about the teams that are going to inhabit the ground, it's about the people who are going to come and watch."
Stream the NRL Premiership 2022 live and free on 9Now.
Sports news, results and expert commentary. Sign up for our Sport newsletter.