The Block is back for more stunning home renovations and for the first time ever we are in the country for a tree change.
Five new teams arrive for what really is the biggest block ever and they're thrown straight into the deep end with a 48-hour House Decider challenge.
Stream the latest episodes of The Block for free on 9Now.
the reality of the block hits hard and fast as the teams battle reno fails and misunderstandings to try to deliver a bedroom good enough to get them first choice of the houses.
And one team's confusion over some well-intended design advice results in a unique room feature that leaves them fearing they won't secure their favorite house.
READMORE: Meet the contestants taking on the Tree Change challenge of The Block 2022
Before we get to that we're reunited with host Scott Cam who is also renovating a house this year.
He's arrived three months early to get a few rooms ready. The façade, veranda and front lawn are also beautifully landscaped providing the perfect setting to meet the new contestants.
First to arrive on the Gisborne building site are block fans Tom and Sarah-Jane from Victoria.
When they get to Scotty's front lawn there is no one to be seen, but soon enough another team arrives and it's sunshiny Queensland couple Dylan and Jenny.
Next up its former AFL player Joel and influencer Elle from Sydney who are instantly recognized by Tom and Sarah-Jane as famous faces.
Then Victoria's Ankur and Sharon drive up and they're already vowing not to "break up as a result of The Block", which is always a good sign.
Last but certainly not least are happy-go-lucky best friends Omar and Oz, who hail from Sydney.
Now everyone's here Scotty – along with his kelpie Frankie – makes his entrance and explains the 48-hour House Decider challenge to the teams.
"So now what we want to see is what you guys can do over the next 12 weeks with 10 acres. It's never been done before in block history. The question I've got for you guys is simple, have you got what it takes? Why don't we find out right now?" Scotty asks the contestants.
He tells them there are five homesteads on the property, each a different size and shape with their own unique views of the Macedon Ranges.
To get first pick of the house they'll be renewing this season they'll compete in a House Decider challenge. This requires them to makeover a bedroom in 48 hours with a budget of only $5,000 and the help of tradies from hipages.
Scotty allocates them a house for the challenge based on the order they arrived in and the teams run to the properties to get started.
After some debate over which room they're going to do their bedroom in, Tom and Sarah-Jane settle on a space and get to work. They're going for a modern farmhouse look with green and white walls.
And then we're treated to our first reno fail of The Block 2022.
Once the walls have been plastered, Tom tries to save some time by priming the wall during the night. The only problem is, the plaster hasn't been sanded yet.
"I don't have to be neat now, just slap it on, that all gets sanded off tomorrow anyway," he says not realizing his mistake.
The next morning the plasterer returns for sanding and giggles as he greets Sarah-Jane.
"They're like what've you done to the walls? You don't put primer on until the gyprock has been sanded," Sarah-Jane recalls.
"I'm not aware it's like paint," Tom explains.
That means Tom had to hand sand the walls before redoing the first he stayed up all night to apply.
Later things take a turn when Tom struggles to operate a paint spray gun and ends up in an argument with Sarah-Jane. The stress and overwhelming nature of the first two days on The Block gets to Sarah-Jane as she tears up.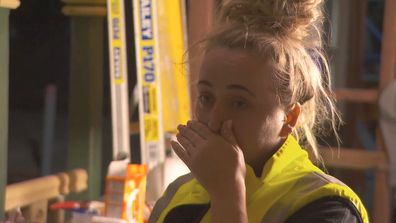 Elsewhere Omar and Oz have hit the ground running after a slow start and are planning a bedroom with a neutral palette, storage and an occasional chair.
Dylan and Jenny are progressing well with their bedroom which has "country vibes" and "Mediterranean farm style texture, nude colors and stuff like that, like luxury".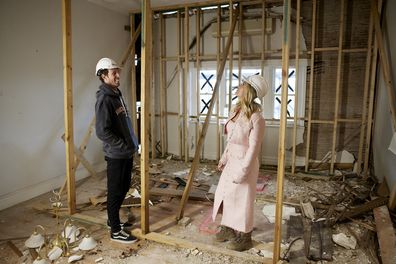 As for Joel and Elle, they're looking far from the country for their bedroom inspiration and doing a coastal cool style. They've also decided to forego carpet and pay $750 for timber flooring, even though they've got a tight budget and a short deadline.
Scotty pays them a visit and though he claims he likes the features in the room tells them "it's a room to lose".
Over in House 4, Ankur and Sharon are having a reindeer fail of their own. Sharon is keen for a reclaimed timber feature wall in the bedroom but Scotty is concerned it might look like a "man cave".
"I don't think it should be really rustic, it can be timber – beautiful. I don't know about the rough rusticity [wood]. You do that in a man cave by the pizza oven, but not in the bedroom," he advises.
READMORE: Why The Block host Scott Cam thinks his dog Frankie will be the star of the 2022 season
Despite Scotty's advice Sharon heads off to a farm in search of timber off-cuts and reveals a hidden talent for driving a forklift. It seems she's misinterpreted his comments on her and thought he meant she shouldn't do a whole wall with rustic timber, so she's gone and done half a feature wall instead.
"Ta-daaaaa – I listened to you," Sharon proudly tells Scotty.
"No you didn't, you've done completely the opposite of what I said," he laughs.
But that's not the only problem, the timber beams on the ceiling are 30mm short. Scotty recommends fixing it because if they leave it like that the judges will notice and they definitely won't win the challenge.
And that's a worry for the couple who have their hearts set on House 4, especially because that's the house everyone wants.
"It's a got a big deck that wraps around for that east side, so you get the sunrise in the morning," Dylan says about House 4's features.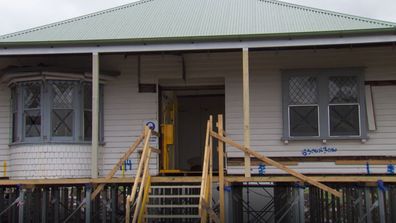 Joel and Elle love it because the back of the house has direct views of Mount Macedon.
And Sarah-Jane is also a fan of House 4, so winning the House Decider challenge has never been more important.
To find out who gets first pick of the houses, we'll have to wait until the rooms are judged in Episode 2. But that's not only thing rocking The Block with one couple set to walk-off the show completely for the first time in history.
In Pictures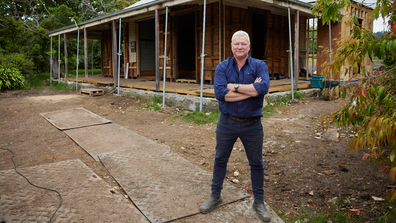 Scotty's house renovation so far
Sneak peek at the first three rooms.
ViewGallery
The Block airs Sunday at 7.00pm and Monday to Wednesday at 7.30pm on Nine. Catch up on all the latest episodes on 9Now.