Their final argument was that the informal way Cain conducted a final session at the Coroners Court on December 16 – including hearing individually from families about the impact of the deaths – "could reasonably have given rise to an apprehension of bias in the mind of an informed and fair-minded lay observer".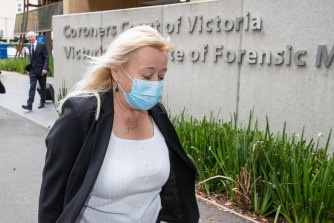 Justice O'Meara rejected each one of these grounds for not appearing before Cain.
Among those listening to Monday's ruling was Klery Loutas, whose mother, Filia Xynidakis, died in the nursing home, not of COVID-19 but of what she described as sheer neglect.
Loutas said she was relieved Kontis and Kos would have to appear before the coroner.
"What these poor souls suffered [in St Basil's], it's quite shocking what they endured. I feel a sense of relief that we are going to get another piece of the puzzle," she said on Monday. "Understanding what happened before the outbreak, how prepared St Basil's was or wasn't, it will help us understand how and why it happened, and to ensure it doesn't happen again."
The current team that runs St Basil's in Fawkner, where 56 residents live, have successfully controlled a new outbreak at the home that began last month. By mid-July, there were 27 residents and four staff members with a COVID-19 infection, federal health department figures show, but by last week, that number had fallen to just one resident.
loading
Meanwhile, also on Monday, WorkSafe laid nine criminal charges against the Fawkner home, which is owned by the Greek Orthodox Archdiocese of Australia.
The charges against St Basil's included failing to provide a safe working environment, adequate instruction and supervision for staff at the home, and a safe place for residents. Of the 117 people residing at St Basil's in July 2020, 94 caught COVID-19. Out of 120 employees, 94 caught the virus.
Charge sheets show that the alleged offenses occurred between March and July 2020, when the facility was expected to implement measures to keep COVID-19 out and to adequately deal with an outbreak. Each charge carries a maximum fine of $1.49 million.
The case will return to the Melbourne Magistrates' Court in December.
The Morning Edition newsletter is our guide to the day's most important and interesting stories, analysis and insights. Sign up here.