"I tried not to take it (the loss in Eugene) to heart, there is always that sort of humiliation element when you get run out in the heats, but I just tried to bounce back and not take it to heart and trust that the form is there it is just in the execution and I think I have tapped into a good bit of form for these championships.
"For sure there is more in me. I always planned on running this round hard. At this level you have to treat every round with respect but there are two rounds to come and I don't want a repeat of Tokyo where I was out in the semis."
The field is strong in Birmingham in the sprints with nine runners who have gone under 10 seconds before.
Doran was drawn in the same heat as the favourite, Akani Simbine of South Africa, who won gold on the Gold Coast. Doran ran well to come second behind Simbine.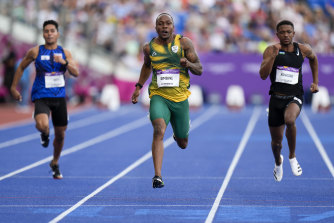 "I had him in the heats at worlds so I knew what to expect, but it is not just Simbine there are fast guys in that heat, I had a Jamaican (Nigel Ellis) and you know how talented they are. I knew what to expect.
"I wasn't next to Simbine this time so that gave me a bit more freedom to move and not tense up and that's what I was able to do in that race just ease up and get over the line in a second.
"I was thinking to myself I can cut the jets here and I thought 'actually no there is a Jamaican next to me I probably should run through the line'. I am just happy to have finished the race in one piece.
"To beat a Jamaican that is always fun and to race Simbine again he is a phenomenal athlete so I am really excited.
"I am happy with that performance I know I can go faster. So there is more to come tomorrow. Simbine is still to beat, he is 2-0 against me but there are some fast guys to come, we know Rohan can put on a show."
loading
On an impressive opening day of athletics for Australia Naa Anang and Bree Masters both also went through to the semi-finals of the women's 100m. Anang finished second in her heat at 11.37s and Master was second in 11.41s.
Critically for the games, Jamaican superstar Elaine Thompson-Herah, the five-time Olympic gold medalist, was in the field. Her presence of her provided the star quality to the games after her compatriot Shericka Jackson chose not to come. She cruised through her heat in 10.99s.
Australia's Henry Frayne, the silver medalist from the Gold Coast games, needed just one jump to qualify for the long jump final hitting 7.85m with his first effort. It was enough to guarantee he advanced to the end. Chris Mitrevski also advanced with his best 7.76m.
Catriona Bisset who dramatically fell in her world championship final and was put through to the final, looked strong in her heat coming second in 2:00:40 and going through to the semis.
Get all the latest news from the Birmingham Commonwealth Games here. We'll be live blogging the action from 4pm-10am daily.