Retired AFL premiership star Tom Boyd has opened up about the crippling panic attacks that contributed to his retirement from football and revealed how he charmed the love of his life.
In a wide-ranging interview, Boyd spoke with A Current Affair ahead of the release of his new book Nowhere to Hide.
Boyd was the #1 pick in the 2013 AFL draft, taken by the Greater Western Sydney Giants.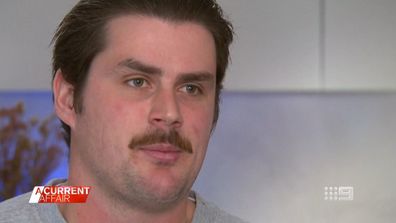 READMORE: Woman, 96, waited 22 hours for an ambulance
READMORE: 'Raw honesty of life' with dementia detailed in new documentary
After just one season at GWS, Boyd received a history-making offer from the Western Bulldogs, guaranteeing him $7 million over seven years.
"At that exact moment in time, I was 18 years old, pretty uncertain about how I was going to translate that at the top level. Super uncertain about my own capabilities and I get a life-changing offer that just about knocked me off my chair," Boyd recalled.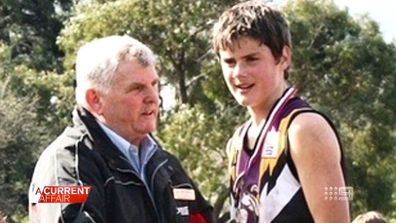 Joining the Bulldogs for the 2015 season, Boyd began to experience sleeplessness and anxiety.
"I was barely sleeping before a game. The fear was (driven by) my desire to do well, the pressure and responsibility I felt to play well, what I expected of myself, but also the fatigue I was facing after really not sleeping, Boyd said.
Few knew of his personal struggles at the time, especially as his stint with the Bulldogs would also bring with it periods of happiness and great success.
Boyd starred for the Bulldogs in their 2016 AFL grand final win.
"It's something that to this day puts a massive smile on my face," Boyd remembers.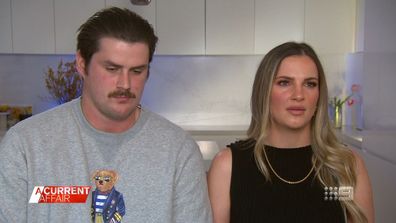 But as another AFL season beckoned, he began to experience panic attacks.
The first occurred as he drove to training, forcing him to pull over.
"I thought I was having a heart attack. I thought I was going to die," Boyd said.
"With all the millions of thoughts running through my mind at this stage, I was lucky that the one that stuck was, 'Hey, I need help'."
Boyd began to seek treatment with a psychologist, while also receiving support from his now-fiancée, Anna Von Moger.
"It was really difficult to watch him struggle during that period of time," Von Moger told A Current Affair.
During his sixth year in the AFL system, Boyd came to a life-changing decision.
He would announce his retirement at the age of 23.
"It was really, 'I don't enjoy this anymore. It's not that I'm depressed or sad or angry. I've dealt with my issues,'" Boyd said.
Boyd has since committed himself to sharing his story to help others.
He's passionate about increasing our understanding of mental health and wellness.
"What I found was that hanging on didn't work. It made me less capable. What actually made me more resilient was going, 'I don't have all the answers. I need the support and the access to the collective wisdom of others,'" Boyd said.
Boyd recently became a father when he and Von Moger welcomed their first daughter, Armani, three months ago.
READMORE: Men confront A Current Affair crew over high-range drink driver who 'bragged' about beating the charge
Boyd and Von Moger first met as toddlers.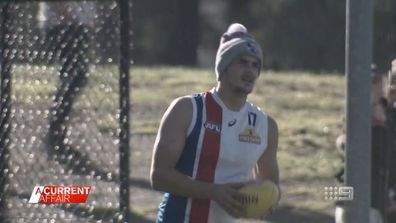 Their families had neighboring properties on Victoria's Surf Coast.
But their romance began almost two decades later when he reached out online.
"I remember him sending me a message saying, 'Hey Anna, not sure if you remember me or not, it's Tom from next door,'" Von Moger recollects with a smile.
"Then you mustered up the courage to ask me on a date," Von Moger continued, as Boyd blushed.
The pair intended to wed in December.
Boyd began writing Nowhere to Hide during COVID-19.
He hopes his story resonates with readers and encourages others to speak out if they are struggling.
Boyd asked anyone touched by his story to consider supporting Lifeline.
Nowhere to Hide: A memoir of football, mental health and resilience is available now from Allen and Unwin.