Alistair Baldwin, Billy's father, said the family redrew about $90,000 "off the house" to fly his son to Madrid and receive the treatment after sending scans to Teo last month. The money included $70,000 that was paid to Teo and other neurosurgeons as well as the hospital.
"It's the last thing you worry about," he said of the money.
He said Teo had performed "miracles" after his son underwent two unsuccessful surgeries at the Royal Children's Hospital at five years old and was told to prepare for palliative care. Billy lost hearing in his left ear after childhood surgery but has gone on to finish schooling, develop a passion for the gym and study personal training.
The latest tumor detected in Billy's lower back had affected his movement, requiring him to stand for 12 hours on his flight to Spain. He said the surgery had eased the pain.
Just two months before the Baldwins' trip to Madrid, an online campaign raised tens of thousands of dollars for Teo to be involved in removing a golf ball-sized tumor from a US patient's brain.
Galarza, who operated on the American patient, confirmed Teo had contacted him to carry out the procedure at his hospital in Torrevieja, about 450 kilometers south-east of Madrid on the Mediterranean coast, after US doctors hesitated to do the surgery.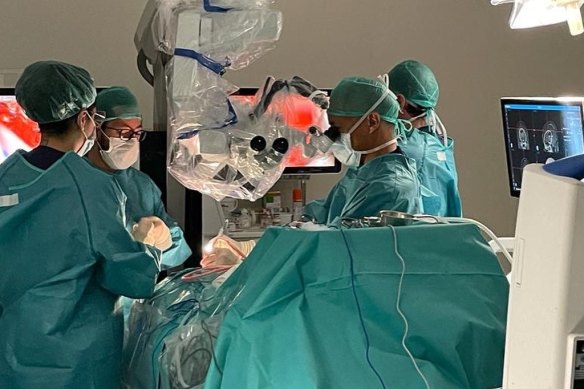 Galarza said he and Teo had previously operated together on an Italian patient with a bihemispheric brain tumor in November 2021 at the same hospital, which mostly treats international patients.
"Generally, he is the first surgeon, and I am usually the assistant," Galarza said. "The patients are Charlie's [Teo]."
loading
An investigation by this masthead in 2019 revealed that 14 neurosurgeons and related specialists had raised serious questions about aspects of Teo's judgment, describing what they said was narcissistic behavior and high fees charged to financially stressed people when public options were available.
The conditions imposed last year by the Medical Council of NSW require another neurosurgeon to be satisfied Teo has explained all material risks to the patient, obtained informed consent and informed financial consent, and complied with the use of systems and plans implemented in his practice for managing interstate patients.
A spokeswoman for the Medical Council of NSW said the council had been in contact with Teo's representatives in response to reports he was operating on patients overseas.
"The council is considering whether to contact Spanish authorities subject to the information provided," she said.
In a statement provided via a spokesman, Teo said he was no longer performing brain surgery in Australia "despite demand for his services from both patients and other neurosurgeons".
loading
The statement said Teo was still registered as a surgeon in Australia but had been precluded from performing surgery in hospitals in the country. He was now assisting in neurosurgical procedures overseas, providing advice to other neurosurgeons and reading.
"I am passionate about caring for my patients, and it is my intention to continue helping them here and overseas," Teo said.
The Morning Edition newsletter is our guide to the day's most important and interesting stories, analysis and insights. Sign up here.