These are the two graphs that expose the true depth of the rental crisis in Australia, and the "aggressive" increases faced by tenants in the hunt to secure a home.
In its weekly economic report, major real estate agency Ray White broke down renting costs, showing a mismatch between inflationary rental price rises and advertised rental price rises, which were much more "aggressive."
The inflation rental price increase is 1.6 per cent, Ray White chief economist Nerida Conisbee said in the report.
However, advertised rents – also known as the market price – are painting a tougher picture, at a 13.6 per cent price increase.
Inflationary rental prices are calculated in line with the Consumer Price Index, which was 6.1 per cent over the 12 months to the June quarter.
"Rents increased by only 1.6 per cent, well below the inflation rate. This is inconsistent with what we are seeing on the ground with available rental properties, as well as the rate of growth in advertised rates," Ms Conisbee wrote in her report.
READMORE: The Adelaide rental with a quirky 'shoilet' on offer for $290 a week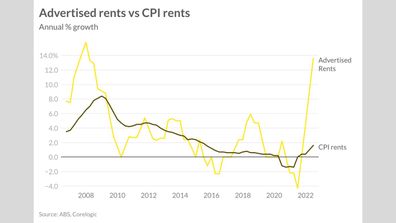 "While inflation numbers are showing a 1.6 per cent increase in rents, data on median advertised rents shows a much more aggressive increase of 13.6 per cent for the same geographic area (average of eight capital cities). Why is there such a mismatch between the two numbers?
"Our first thought was that someone's data collection is not working properly.
"The strong increase in rental increases showing up in advertised rents is however consistent with what we are seeing with Ray White rental listings.
"There has been a dramatic fall in properties available, which supports strong growth in what people are advertising vacant rental properties.
"Anecdotally, our property managers are also seeing a shortage of properties available – demand is much higher than available supply."
READMORE: Rainforest block with 'derelict beach house' commands $6.9 million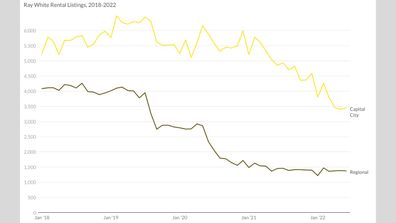 Ms Conisbee said the discrepancy with rental prices could be that tenants who are already locked into a lease are not paying the higher "market prices" (the advertised price).
And this means the rental crisis is impacting new tenants on the hunt for a lease, and not necessarily those in an agreement, the report found.
Ray White also tracked the number of rental listings between 2018 and 2022.
It shows the volume of tanking options for both metro and regional addresses, well below the January 2019 peak for house supply, and an abundance of apartments in December 2018.
"Although landlords could theoretically take their property to market and achieve a better rent, they aren't doing so right now," Ms Conisbee said.
"There are a number of reasons why this may be the case. The main reason is that it likely takes some time for the sharp increase in advertised rents to show up in sitting rents. Leases are typically signed for 12 months and breaking leases by a landlord is relatively uncommon.
READMORE: Affordable neighborhoods shine in the property market downturn
"Rent increases for sitting tenants also can't be implemented immediately and there is a notice period that must be given."
Ms Conisbee said that a stable tenant is valuable for a landlord, and chasing a "better rent" may not be seen as worthwhile.
"Overall, what this shows is that for renters right now with secure leases, we are not seeing a rental crisis" she said.
"The crisis however is occurring for those that are looking for a rental property right now, whether that is because their lease term is over, they are looking for a bigger (or smaller) property to live in or they have moved to a different geographic area."