Domain chief of research economics Dr Nicola Powell said the figures highlight extraordinarily tight rental conditions for tenants.
loading
"Nationally, vacant rental listings are 45 per cent lower over the year and have fallen across most of the capital cities," Powell said.
"The rental market remains firmly in favor of landlords across every capital city, with a shortage in rental supply driving up asking rents and further escalating competition between tenants.
"With the vacancy rate dipping to a record low, it's not an overnight fix."
Impact Economics and Policy economist Dr Angela Jackson said the country's two largest capitals were starting to tighten like other rental markets around the country have been since the pandemic hit.
"Effectively, we're seeing Sydney and Melbourne catch up with the rest of the country. They were in lockdown, which led to higher vacancy rates," Jackson said.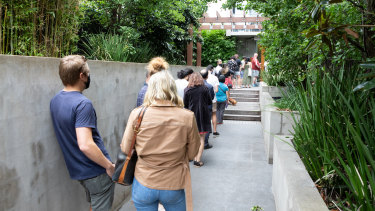 "It is getting harder and harder to find a rental in the major capital cities. This will undoubtedly lead to higher rents in those markets.
"Housing is the biggest part of any household consumption, and the cost we can't avoid, it's the first thing that has to be paid."
She said when rents rise, this has a significant impact on households.
loading
"Certainly for low-income renters, they will either face increasing rates of housing stress or more severe housing stress," she said.
"Even for households on medium incomes, that stress is likely to spread to our capitals like Sydney and Melbourne in the next 12 months."
She said rental demand was driven by city tenants moving to regional markets, as well as eleven locked-down workers moving into new rentals as a single or smaller household, rather than due to immigration, which has yet to return to pre-pandemic levels.
Renters and Housing Union Victoria secretary Eirene Tsolidis Noyce said it has become extremely difficult for renters, amid reports of rent increases of $600 a month in some cases.
"We definitely notice that increase because our membership is feeling the squeeze excessively," Tsolidis Noyce said.
"We're firmly against the idea that an increase in interest rates should be passed onto renters who are on lower incomes and in less financial stability and with fewer assets. If you don't own the property you shouldn't be paying more than someone's mortgage for less of the benefit."
loading
Barry Plant head of property management Emma Gordon said it was a two-speed market in Melbourne, and city rentals sit vacant longer than properties outside the CBD.
"The city hasn't fully recovered and isn't experiencing queues at open homes and high demand where you are getting six or eight applications on properties," Gordon said.
"But in the other areas of Melbourne, outer areas, competition is high, stock is low, and as soon as stock comes on the market they're being rented," she said, adding there were rental increases across the board.
Ray White property management chief executive Emily Sim said Sydney rents were increasing on average between $80 to $100 a week.