A property company has been exposed celebrating a $225 per week rental price rise as an "achievement".
A renter shared a screenshot of an email update from national real estate management firm Ironfish, sharing its numbers for June.
"Achievement in June: Biggest rent increase – $225 per week," the flyer said.
Below the details is a photo of kids pillow fighting on a bed.
The user posted the email to Reddit with the comment: "My rent just went up $400 a month and the agency sent me an email bragging about it…"
READMORE: The "aggressive" number that exposes Australia's rental crisis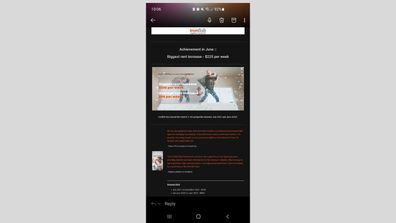 The email also told recipients the average weekly rental increase is almost $100 a week, and revealed comparative increases in asking prices: "July 2021 to December 2021: $393. January 2022 to June 2022: $460".
The Reddit thread exploded in response.
"Landlord here, it's not justified. It shouldn't even be legal to increase the rent that much for the same tenant. Different if new tenants come in but that's an outrageous amount," one user commented.
Another said: "I have been a landlord for a couple of years, and will not be putting up the rent (to the annoyance of the Real Estate Management company) – tenants have been there 12 years and keep the place immaculate, always pay on time. They got young kids, both working in low paid jobs, doing the best they can."'
READMORE: Amber Heard sells her home for $1.6 million after Johnny Depp court ruling
One tenant called the email "cringe" and a landlord remarked: "I received the same email and had the same disgusted feeling, and I'm an owner (just not with them)."
Ironfish has been contacted by Nine for comment.
Data from large national real estate agency Ray White shows that advertised rental prices have increased by almost 14 per cent, outpacing CPI rental price rises of 1.6 per cent.
At the same time, the national vacancy rate this month has tightened to a record level of less than 1 per cent, according to Domain.
A lack of listings has increased competition, and rising interest rates – with costs being passed on by landlords to tenants – plus inflation, has continued to squeeze the rental market to a crisis point.