There's a longstanding but unacknowledged – and often unnoticed – bias in mainstream commentary on the state of the economy. We dwell on problems created by governments or greedy workers and their interfering unions, but never entertain the thought that the behavior of business could be part of the problem.
This ubiquitous pro-business bias – reinforced daily by the national press – is easily seen in the debate on how worried we should be about inflation, and in the instant attraction to the notion that continuing to cut real wages is central to getting inflation back under control. This is being pushed by the econocrats, and last week's economic statement from Treasurer Jim Chalmers reveals it's been swallowed by the new Labor government.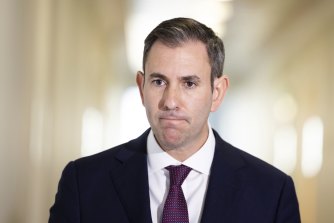 I've been arguing strongly that the primary source of the huge price rises we've seen is quite different to what we're used to. It's blockages in the supply of goods, caused by a perfect storm of global problems: the pandemic, the war in Ukraine and even climate change's effect on meat and vegetable prices.
Since monetary policy can do nothing to fix supply problems, we should be patient and wait for these once-off, temporary issues to resolve themselves. The econocrats' reply is that, though most price rises come from deficient supply, some come from strong demand – and they're right.
Although more than half the 1.8 per cent rise in consumer prices in the June quarter came from just three categories – food, petrol and home-building costs – it's also true there were increases in a high proportion of categories.
The glaring example of price rises caused by strong demand is the cost of building new homes. Although there have been shortages of imported building materials, it's clear that hugely excessive stimulus – from interest rates and the budget – has led to an industry that hasn't had a hope of keeping up with the government-caused surge in demand for new homes. It's done what it always does: used the opportunity to jack up prices.
But as for a more general effect of strong demand on prices, what you don't see in the figures is any sign it's high wages that are prompting businesses to raise their prices. Almost 80 per cent of the rise in prices over the year to June came from the price of goods rather than services. That's despite goods' share of total production and employment being about 20 per cent.
This – along with direct measures of wage growth – says it's not soaring labor costs that have caused so many businesses to raise their prices. Rather, strong demand for their product has allowed them to pass on, rather than absorb, the higher cost of imported inputs – and, probably, fatten their profit margins while they're at it.
Take the amazing 7 per cent increase in furniture prices during the quarter. We're told this is explained by higher freight costs. really? I can't believe it.