The Coalition has challenged Prime Minister Anthony Albanese to extend the $2.9 billion temporary cut to fuel excise in a move to exploit discontent over the cost of living when petrol prices have exceeded $2 per liter in some cities.
Liberal and Nationals MPs are preparing to back the extension despite the fact they voted only months ago to pass a law that ensured the temporary budget measure would end on September 28.
The move sets up another fight over a budget deadline after Albanese shifted position two weeks ago and agreed to extend the $750 paid pandemic disaster payment for workers with COVID-19 who had to go into isolation.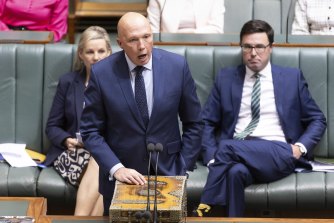 While the original COVID-19 payment ended on June 30, the Prime Minister agreed to reinstate it until September 30 after calls from the states and the federal Coalition.
Opposition Leader Peter Dutton cleared the way for the fight over fuel by asking Albanese in parliament on Monday about what the government would do to help Australians deal with rising costs including on fuel.
"Households are facing rising power bills and your plan to address this is in disarray," Dutton said in question time.
"Will your government compound the pressure on household budgets by not extending the fuel excise relief? Why is Labor making a bad situation worse?"
Albanese did not rule out an extension to the fuel excise cut but expressed surprise at the question and reminded parliament that Dutton was one of the federal cabinet ministers who decided on the excise cut and its September 28 expiry date.
"I point to the fact that he was in the cabinet that put together the budget, it had the end date for the measure he talks about," the Prime Minister said.