Perrottet announced candidate preselection for the March state election would open in two weeks, directly calling out the federal preselection debacle and conceding branch members were right to feel they had been stripped of their democratic right.
"One of the most important rights of party members is the power to select candidates to represent your values," he said, insisting he wanted more women and greater cultural diversity ahead of the state poll.
The premier said he did not shy away from his conservatism, but railed against standing still in the interest of tradition, listing freedom, families, faith and integrity as central to his "brand" of conservatism.
"It is about taking the best of our past into the future, but innovating and modernizing everything else," he said.
"I agree with our greatest prime minister John Howard when he said the Liberal party is at its best when it balances and blends its Liberal and conservative traditions."
Perrottet's address attracted a standing ovation from the roughly 800 in attendance at the Rosehill Gardens exhibition hall.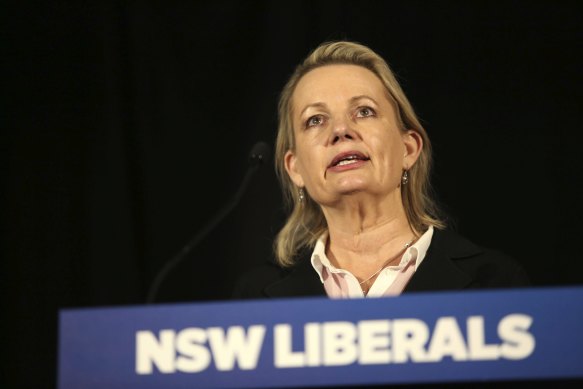 Members said the delivery triggered a lift in the mood of the room, which had been largely flat during earlier motions and a speech by Ley in Dutton's absence.
Two months on from the federal election, Ley told the party faithful that Labor "want you to believe that Australia, the lucky country, has become Australia, the leftie country. It is completely rubbish".
"The Liberal party has been written off before but let me assure you, under Peter Dutton's leadership, we've got a big three years ahead," she said, before seizing on Labor's dismantling of the Australian Building and Construction Commission.
Ley said she felt as proud about the party as the day she painted blue a caravan she lived in as a shearer's cook and covered it in Liberal party logos.
loading
One party member, not authorized to speak publicly about party matters, said it was an "underwhelming and uninspiring" speech highlighting how much work the party had to do to be in a position to win a federal election again.
"This is the position that was held by Julie Bishop for a long, long time. When you compare the two, it's pretty grim," they said.
They added it was "not lost on anyone in the room" that Ley would not be there, were it not for the types of interventions by Morrison and his key ally Alex Hawke that the AGM voted to stop.
Ley's preselection was under threat during the federal election, prompting a personal intervention by Morrison to override local party members.
An urgent motion on Saturday to expel Hawke, who was in attendance from the Liberal party failed to garner the requisite 60 per cent support, however members in the room said support was as high as 30 per cent.
Hawke was also a target of the so-called Sydney motion, requiring the party to establish a "clear timetable" to select candidates and limit the power of "the leader's representative" to interfere with the process.
The Sydney motion was drafted by local Bragg and Warringah Jane Buncle, both from the party's moderate faction.
The state council came days out from Tuesday's vote by state Liberal MPs for a new deputy leader, after Ayres was forced to resign last week over concerns about his role in the Barilaro trade job saga.
Treasurer Matt Kean and Transport Minister David Elliott will face off for the position, which mainly involves managing internal party matters.
Kean was among state MPs in attendance on Saturday, along with fellow ministerial colleagues Rob Stokes, Victor Dominello, James Griffin, Damien Tudehope, Alistair Henskens and Mark Coure. Other federal frontbenchers at the AGM included Angus Taylor, Paul Fletcher, Julian Leeser, Melissa McIntosh and Hollie Hughes.
Voting also opened on Saturday for the new state executive of the party and to replace outgoing president and party elder Philip Ruddock. Voting will continue over coming weeks.
The Morning Edition newsletter is our guide to the day's most important and interesting stories, analysis and insights. Sign up here.