She said that "the government's integrity record is arguably worse than Guy's" and that "many will be confused about where to place their vote".
The government continued its attack on Guy on Wednesday, while the Coalition accused Labor of hypocrisy and attempting to deflect from its own integrity problems. Deputy Premier Jacinta Allan said Guy needed to "come clean … about his role in this extraordinary secret arrangement that would have sought to subvert the strict donation laws in our state."
Several Liberal sources said Frost, an ally of former federal treasurer Josh Frydenberg, was the frontrunner to replace Catlin as Guy's chief of staff.
Frost, who last year unsuccessfully contested a position in the Senate, previously ran the Victorian state division of the Liberal Party. Jackson Whiteley, a former staff member at federal Liberal MP Michael Sukkar's office, was also in contention, but may join the office in another role.
Catlin unsuccessfully sought payments from Munz in addition to his publicly funded salary, according to a leaked email to Guy's private Hotmail account and a proposed contract obtained by TheAge.
loading
"Hey MG. Attached is the proposed agreement between [the donor] and Catchy Media Marketing and Management," Catlin wrote. "It's as per the original email agreement between you and me. Can I leave you to forward onto him?"
Guy on Wednesday refused to provide further details about the proposal because it was being assessed by authorities including Victoria Police, the Victorian Electoral Commission (VEC), the Independent Broad-based Anti-corruption Commission (IBAC) and the Victorian Ombudsman.
When questioned on Wednesday about the chain of events, Guy said he was unaware of key details.
In the email reported by The Age, Catlin asked Guy to "forward" the contract to Munz. Guy said he did not do this and was unaware about how the contract was put to Munz. The businessman's camp said Catlin forwarded the email "unsolicited".
"I hadn't responded to or forwarded any emails. That's what it comes down to," Guy said.
The Coalition leader said he could not explain why Munz rejected the arrangement because he did not have any conversations with the donor about the proposal. "I haven't spoken to either of the two about that and I don't intend to because nothing was signed," he said.
On Tuesday, Guy admitted he had discussed with Catlin how to secure more money to employ him, but decided against doing so. He did not answer a question on Wednesday about whether the proposal would have breached donation laws. He has also not explained what was meant by Catlin when he wrote to Guy saying the contract was "as per the original email agreement between you and me".
The MP claimed every employee in his office was "entirely" paid out of the regular fund with "not a single amount topped up". Catlin's salary increased from the initial level of $140,000 after some staff left the opposition leader's office and were not replaced, or were replaced by lesser-paid staff, a senior Liberal source told The Age.
Guy said on Wednesday that he knew Munz, a plumbing supplies baron and horse racing figure. "I've met him a couple of times… but I certainly haven't had this conversation with him," he said.
In a written statement, Munz said on Tuesday: "I do not know how many people received this unsolicited and unwanted email, but when I got it, I rejected it out of hand." Munz declined to comment further on Wednesday.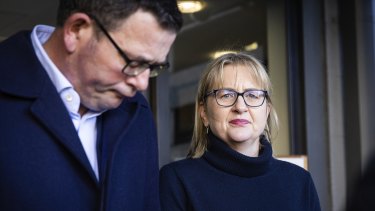 A spokeswoman for the VEC, who on Tuesday announced it was inquiring into whether the proposal was designed to circumvent donation laws, said she would "welcome anyone who wishes to come forward and provide us with information that they have regarding the matters raised."
"It is difficult to provide a timeframe at this early stage of any investigation, as there are multiple lines of inquiry," she said.
The Morning Edition newsletter is our guide to the day's most important and interesting stories, analysis and insights. Sign up here.