The Albanese government has quietly wound up the Operation COVID Shield vaccination program, despite millions of Australians being overdue for their boosters and one-fifth of aged care residents waiting for their fourth doses.
In a letter to state emergency operations leaders on Friday, Operation COVID Shield co-ordinator Lieutenant General John Frewen said the government "has advised that Operation COVID Shield will cease on August 1" with functions returning to the Health Department.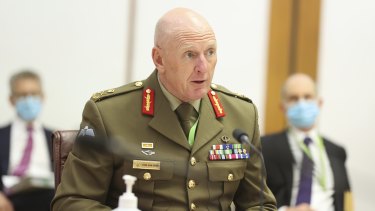 "I appreciate your involvement and support in the delivery of Operation COVID Shield and thank you for your assistance during my time as Coordinator General of the National COVID-19 Vaccine Program," wrote Frewen, who has returned to his post as Defense Chief of Joint Capabilities.
Set up by the former Coalition government after the nation's vaccination program got off to a slow start, Operation COVID Shield was tasked with ensuring public confidence in the COVID-19 vaccine rollout by overseeing the logistics of vaccine supply and the community messaging. General Frewen's role circumvented the normal bureaucratic paths and allowed him to deal directly with groups and companies involved in the rollout, meet with state and territory leaders and chief health officers, and report directly to the prime minister.
Prime Minister Anthony Albanese has called a virtual national cabinet meeting to be held on Thursday after Health Minister Mark Butler raised concerns that millions of Australians had "effectively tapped out of the vaccination program".
loading
Opposition health spokeswoman Anne Ruston accused the prime minister of removing another important COVID-19 measure "with no explanation" after not extending concession cardholders' access to free rapid antigen tests and hesitating to extend isolation relief payments.
She called on the government to explain "what advice formed the basis of their decision to remove this most effective operation, particularly at a time when we are clearly still focused on vaccination as the primary defense against the current wave of the pandemic."
A Health Department spokesman said the vaccination program now sat under "the direct oversight" of Secretary Brendan Murphy.