Kevin Farmer is a veteran primary school ethics teacher who for years held weekly classes at Crown Street Public. But when the chance to run an after-school ethics club at Inner Sydney High appeared, he leapt at it.
"In high school classes the philosophical questions and conversations are much deeper, we talk about human rights, marriage equality, peer pressure and friendship," said Farmer, who is one of about 2000 volunteer ethics teachers in NSW. "I get fewer numbers in the high school, but they are there because they want to be. They are so engaged."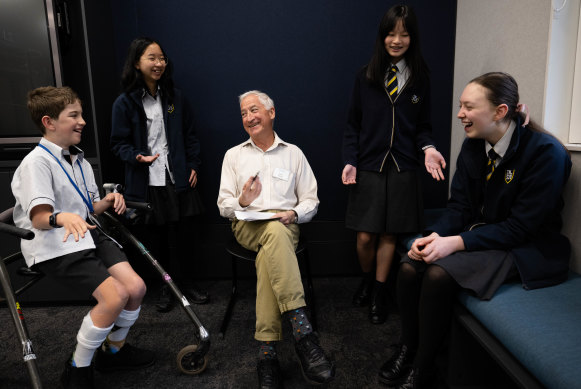 Primary Ethics, the not-for-profit group that has run classes for the past decade, says almost 43,000 primary students are enrolled in ethics at 483 – or just under a quarter – of the state's public schools.
A pilot program by the organization to extend classes to secondary schools is still in its infancy: just a handful of schools, including Inner Sydney, Fort Street High, James Ruse Agricultural High and Katoomba High have taken part in a trial run by the organisation.
Primary Ethics chief executive Evan Hannah says while primary school ethics enrollments are up 20 per cent on five years ago, the program is dealing with major hurdles recruiting volunteer teachers, particularly in rural and regional areas.
"Our biggest growth in the past few years has been at primary schools in Parramatta, Canterbury-Bankstown and Georges River, where more schools in those areas are signing up," he said.
loading
"We are moving beyond the inner west and lower north shore, but there are serious challenges after COVID-19 caused so much disruption. We rely solely on volunteers, 75 per cent [of whom are] parents, and without them the schools can't run classes."
Data shows fewer schools have ethics classes in areas of Sydney where both parents are more likely to work, where they work further from home, and where English is more likely to be a second language, he said.