Indigenous recognition and reconciliation are high on the government's agenda, after a weekend dominated by talk about the Uluru Statement from the Heart and enshrining its proposed Voice in the constitution.
Thorpe believes pursuing the Voice first is backwards, preferring instead to pursue a treaty and truth-telling initially.
In the lower house, there were no hitches in the swearing-in of former deputy prime minister Scott Morrison and former deputy prime minister Barnaby Joyce.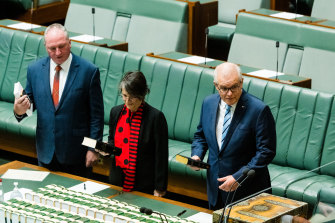 The microphone of the dispatch box where Morrison held forth during the previous term of parliament picked up his declaration, "So help me God," and the member for Cook wandered off to shake hands with some of his close supporters, including Melissa McIntosh and Gavin Pearce, who have now been promoted to the outer shadow ministry.
Morrison was absent last week to attend a conference of conservative former leaders in Japan.
During question time, Morrison chatted with his right-hand man in the NSW division of the Liberal Party, Alex Hawke, both now seated in the blind spot of the chamber out of view of much of the press gallery.
Joyce, who returns to parliament after the death of his father last week, slumped on the frontbench.
loading
Meanwhile, the literary references continued to flow in the first speeches as MPs introduced themselves and their priorities to the parliament.
Last week, independent MP Monique Ryan quoted Albus Dumbledore; on Monday, member of Mackellar Sophie Scamps turned to another fantasy classic to quote Gandalf from Lord of the Rings on her decision to run for parliament.
"It's a dangerous business, Frodo, going out your door. You step onto the road, and if you don't keep your feet, there's no knowing where you might be swept off to," Scamps said.
Cut through the noise of federal politics with news, views and expert analysis from Jacqueline Maley. Subscribers can sign up to our weekly Inside Politics newsletter here.