By definition, they are unlikely to all fall in together behind Indonesia and two of the largest members, India and Pakistan, are nuclear powers but non-signatories to the NPT.
Sugiono argues Indonesia could have made a stronger case to convince other countries to join its cause if it had directly referenced Australia and AUKUS.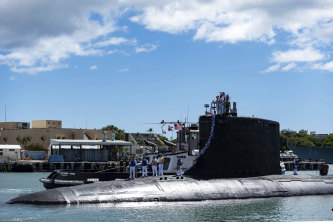 The submission was one of three on nuclear-fueled submarines made to the conference. The others were a joint submission from the AUKUS countries Australia, the United States and the United Kingdom, and by China, a fervent opponent of the deal.
"By pointing at the actual case [Australia and AUKUS] we could build a strong argument to convince other countries that we must do something," Sugiono said.
"The reason for not mentioning it since the beginning is perhaps that Indonesia does not want to disturb its relations with Australia."
"I am not so optimistic because our working paper was not firm enough to express what we wanted."
Even if Indonesia's case for re-working the NPT fails its uneasiness is not going to go away.
A recent poll by Australia's Lowy Institute indicated there was low public awareness of Australia's submarine project in Indonesia – only 11 per cent of Indonesians had heard of AUKUS, with 28 per cent believing it would make their country less safe.
Indonesia's anxiety has not morphed into a diplomatic flashpoint – and Australia has avoided another potential one by refusing calls to shut the border over a foot and mouth disease outbreak.
But Susannah Patton, the South-East Asia program director at the Lowy Institute, believes that while differences over AUKUS can be managed in the short term, Australia's submarine ambitions stand to have lasting implications on its relationships with Indonesia and with others in the region.
loading
"Those concerns [of Indonesia] are things that Australia should be worried about because it points to the fact that Australia and Indonesia have very different world views and that will have an impact on our long-term relationship," she said.
"It will have an impact on the kind of things Indonesia is willing to support us on and on the kind of activities that Indonesia would be willing to join, in terms of regional minilateral groups or other diplomatic issues."
Patton said Indonesia's apprehension underscored the need for Australia to make a much greater effort in providing strategic reassurance to Indonesia as well as messages of deterrence to China. Australia needs to also do a better job of having meaningful consultation with Indonesia "not just on AUKUS, but on a whole range of deterrent capabilities that the ADF [Australian Defence Force] is going to be investing in," she said.