"Nations that [think their] militaries can quickly invade other countries or tracts of land and take populations under their control are just naive… it's a relearning of what history tells us," he said.
"I think what you're seeing is, even when a much stronger military force looks to use its military power on an adjacent land border, and then when that country then fights back, it is an incredible struggle… and I think all nations are probably taking stock of that," he said.
loading
Radakin said one of the big lessons from Ukraine's endurance of the Russian invasion was the "strength of collective defence" as well as the "crude" way in which Russia was conducting the attacks.
"The converse is trying to conduct warfare in a more precise way with increased speed," Radakin said, adding Ukraine's counter-attacks had involved more agile, "higher-quality weaponry".
He described Russian President Vladimir Putin's tactics as an example of "how not to fight, and that has surprised us because, I think for most of us, we thought the Russians had a stronger ability to link land forces to conduct combined armed manoeuvre, to be able to operate with far more speed … and that isn't happening".
Australia could have a defense capability gap, with the expectation the nuclear submarines to be acquired under the AUKUS deal with the United States and Britain won't be ready until 2040, prompting opposition defense spokesman Andrew Hastie to urge Britain to compete with the Americans to supply Australia.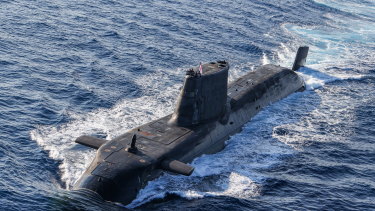 loading
But Radakin said the strength of the partnership was the lack of competition over co-operation between allies. "We're working together to come to the best outcome to provide Australia with an honest assessment of the various choices, and how it best takes itself forward to produce a nuclear submarine fleet in the future," the admiral said.
"So I don't buy the 'let's focus on this country and these difficulties', and so-on and so-on. We're doing this together for a shared outcome."