It's the sort of call that suggests Genex's board has a rosy outlook, viable Plan B and/or an iron-clad grip on its share register. It's also a call that makes it pretty clear the capital hungry renewables developer isn't working as an ASX-listed vehicle; how else do you explain a bid at a 70 per cent premium being knocked back?
The rejection shows a huge gulf between the market and the board's view on value. Genex shares have traded at or below 15¢ since March, and hadn't closed above 20¢ all year (until Skip/Stonepeak turned up last weekend, as Street Talk revealed).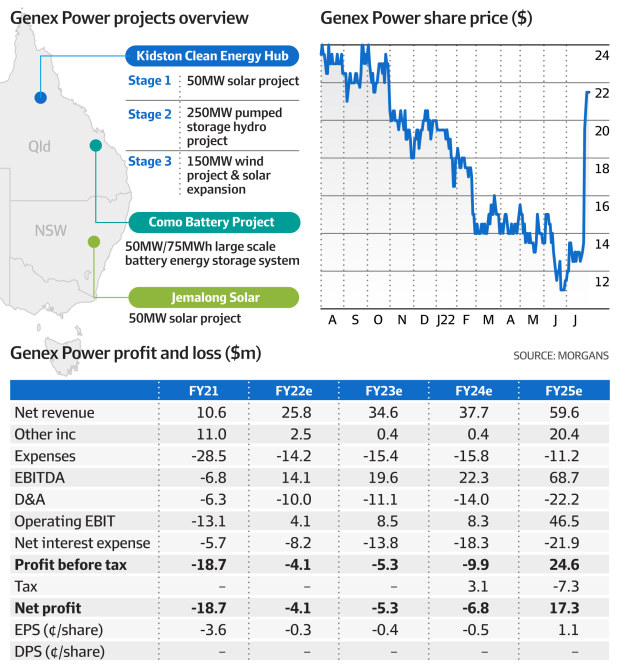 The board wants shareholders to think about last year's trading, when Genex was regularly around Skip/Stonepeak's 23¢ mark, and small cap broker target prices of 29¢ to 35¢.
It also reckons there's signs of better times ahead, even if that wasn't reflected in its share price or Paradice Investment Management/First Sentier's selling one week ago. There's strong wholesale electricity prices are in its favor in the near term, which makes its solar farms more valuable, while the longer term story is propped up by Labor government policy to target 82 per cent renewables by 2030.
Clearly, Genex needs to do a better of selling that story, starting with management's pitch to Skip/Stonepeak.
Skip/Stonepeak's expected to play nice, for now at least. He knows it's sitting in a strong position courtesy of a 19.99 per cent pre-bid stake.