Football Australia will now lean heavily upon that wisdom to set the country's football direction.
Born in Scotland where he played semi-professionally, Merrick moved to Melbourne in 1975 and swiftly rose through the football ranks as a coach – first at local level, then the old National Soccer League, the Victorian Institute of Sport (where he had a hand in the development of players like Vince Grella, Mark Bresciano and Simon Colosimo), and then in the A-League, where he managed three different clubs. He also had a short stint as coach of the Hong Kong national team.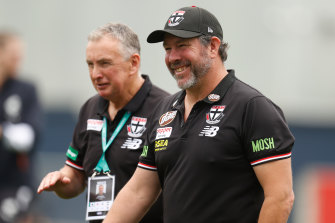 When he coached Victory through an iconic era for the club between 2005 and 2011, the football they played was always easy on the eye, and in his last job at Newcastle Jets, he took them to a surprise grand final appearance in 2019 on one of the league's most meager budgets.
Sacked by the Jets in January 2020, Merrick has not worked with a team since, and it seemed as if his days of working at the top level were reluctantly at an end. This year, he has been working as a mentor for Brett Ratten, coach of AFL club St Kilda. Merrick has now accepted what he says is the most important job of his career to date.
"I've never been one for retirement. I've always been a worker, and I'm really, really looking forward to having an influence – a positive influence, I hope – on football in this country," Merrick said.
His top priority is a review of Australia's development pathways and improving the national coaching curriculum in line with best practice in football abroad.
Asked where Australia was getting things wrong, Merrick said: "Well, I can't say that until I can conduct a full review, but I think we're doing a lot of things right.
"We have qualified for the fifth time for the [men's] World Cup. The Matildas have been in the top 10 nations in the FIFA rankings until recently. We've got our youngsters playing in an under-20 women's World Cup over in Costa Rica in August. There's a lot of things going well, but it's all about continuing to grow, develop, innovate and drive positive change. And that's what I'll be aiming to do."
Merrick will have a very broad range of responsibilities as chief football officer, from advising Football Australia on football matters and global trends, helping to define and set a 'national style' of play.
He will also oversee coach education programs, help optimize player development systems and assist Johnson in pushing through proposed reforms like the domestic transfer system and national second division, which he said was a "crucial" missing piece of the puzzle in Australia.
loading
"The person I portray on match day, with my dour face, people think I'll be a good disrupter, but I'm not really very good at that. I think I'm better at convincing people of the way forward and collaborating and cooperation," Merrick said.
"If we're going to be successful, innovate, change and grow to a stronger level of football… we've all got to work together. And I think that's where my strength is."
Sports news, results and expert commentary. Sign up for our Sport newsletter.