Dominic Perrottet's colleagues have been crying out for the premier to take decisive action to end the death spiral they fear their government is in. But the guillotine did not fall where they had hoped.
Perrottet stepped in to sack his junior fair trading minister Eleni Petinos just 48 hours after reports emerged that she had been accused of bullying staff. While overseas, on his poorly timed trade trip, Perrottet initially backed Petinos and was confident that an anonymous complaint made against her had been appropriately dealt with.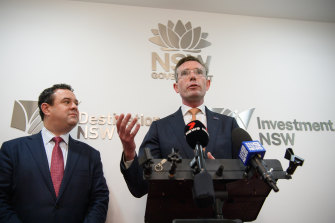 But by Sunday night "further matters" relating to Petinos had emerged and Perrottet was wasting no time in removing the young minister from his cabinet. He had no choice. Bullying cannot be tolerated.
Perrottet on Monday wanted it known that he had taken swift action. "I'm the premier. I have to make decisions… it's a very difficult decision. But I believe it's the right call," he said. His colleagues of him, no doubt, agree that it was the only way to deal with the issue.
But if Perrottet thinks his decisiveness over such a clear problem will be enough to calm his anxious troops, he is sorely mistaken. While sacking Petinos gets rid of one problem, it will do nothing to stop the wider, more damaging saga that is paralyzing the government.
As long as the John Barilaro trade appointment fiasco rolls on, and Trade Minister Stuart Ayres remains in cabinet as well as being deputy Liberal leader, Perrottet's colleagues will be increasingly incensed and his government will be locked in a crisis of its own making.
Perrottet has been the only one to declare publicly that Ayres is a "very strong minister in the NSW government". Other ministers who have been pressed on the trade minister have ducked the question, clearly not keen to endorse their cabinet colleague.
Ayres, meanwhile, is outrageous. He refuses to accept the mood and stand aside pending the outcome of two inquiries – one, an independent probe; the second, a parliamentary inquiry. He keeps stressing that he has done nothing wrong and therefore has every right to stay.
He has missed the glaring point. Regardless of his self-determined innocence of him, he has come to symbolize a festering problem that is causing his government worsening damage. As long as Ayres digs in, it all drags on, and at some point the issue may be irreparable for the Coalition.