Commonwealth Games 2022 Day 4 LIVE updates: Australians ahead in table tennis, Diamonds take to the court tonight
We're sorry, this feature is currently unavailable. We're working to restore it. Please try again later.
Pinned post from
Medal Standings
Lawn bowls showing the Aussies some love
Australia has seven lawn bowls athletes currently on the green, and in all three games the Australians are dominating.
In the men's treble semi-final Barry Lester, Carl Healey and Ben Twist are up 17-11 against the Fijian team with six games (or 'ends') to go.
In the men's para pairs B6-B8 semi-final Australia's Damien Delgado and Chris Flavel are up 17-4 against England.
And the Aussie women are up 14-6 against South Africa in the women's pairs B6-B8 semi-finals.
Australians ahead in table tennis bronze medal match
Australia's Jian Fang Lay and Yangzi Liu have put the Aussies ahead after the first game of the women's team bronze medal match.
Playing a doubles game first, Lay and Liu managed to contain the energetic Welsh team to post a definitive 3-0 win.
Liu is currently at the table, playing Anna Hursey for the first of the singles games.
How the table tennis competition works
If you're unfamiliar with how the team table tennis matches work, then here is a quick run down so that you can watch the match and know what you're talking about.
The team has three players. For Australia, that's Yangzi Liu, Jian Fang Lay and Minhyung Jee.
Contests are the best of five matches, and they consist of two singles matches, a doubles match and then one or two singles matches if required, until one team wins three matches. Each match is the best of five games.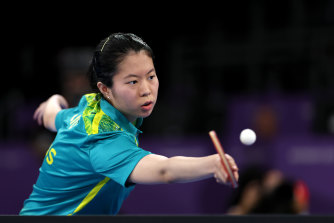 Paddles in hand at table tennis bronze medal match
The bronze medal match is about to get underway for the women's team in table tennis.
Australia will play Wales for the bronze medal, while Singapore and Malaysia battle it out for gold a little later on.
What's Australia's secret weapon? Jian Fang Lay.
The 49-year-old from Victoria is competing at her sixth Commonwealth Games and was the first Australian woman to ever compete at six Olympic Games.
Netball medals at Commonwealth Games
The Diamonds take to the court later tonight when they play South Africa at 9pm AEST.
Australia has had great success in netball at the Commonwealth Games, having won a medal every Games since its introduction in 1998.
Ahead of the Games, Diamonds' wing defense Ash Brazill spoke to The Sydney Morning Herald and The Age about playing at the Games, and Australia's friendly rivalry with England.
Read the full story here.
'They weren't going to lose': Australia write their perfect rugby sevens redemption script
By

Tom Decent
Even before Australia's women sliced ​​and diced Fiji in breathtaking fashion on Sunday night to win a maiden Commonwealth Games rugby sevens gold medal, they knew they were going to win.
That statement could be constructed as arrogant. Far from it.
Read the full story here.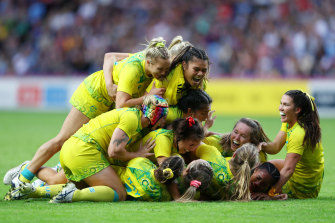 Which Olympic sport would you like to see at the Commonwealth Games?
Track and field start on Tuesday: Here's your guide
By

Michael Gleeson
Australia have never done this before. We have never had a Commonwealth Games running straight out of a World Athletics Championships.
Two weeks ago Australia enjoyed one of the country's most successful world championships performances in track and field. Two gold medals and a bronze – all won by women – and three more women who were only fractionally out of the medals.
You can find a full guide to Australia's track and field athletes at the Commonwealth Games here.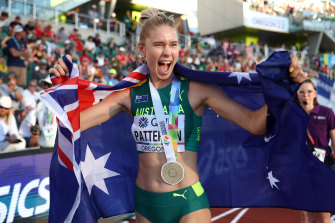 Lawn Bowls semi-finals underground
Australia's men's triples are among the first to take to the bowling green in the semi-finals, and they play Fiji.
Barry Lester, Carl Healey and Ben Twist form the Australian triples team at the Commonwealth Games, one of the most prestigious competitions in the lawn bowls world.
If you're unfamiliar with how the game works, the key is to get your bowls as close as possible to the smaller yellow/white ball (known as the jack).
Fun fact: Birmingham 2022 will see a record 11 gold medals in the lawn bowls competition.
'Go home to mum crying on Facetime': Chalmers ready to leave Birmingham behind
Kyle Chalmers is ready to get the first plane out of Birmingham.
The Olympic gold medalist had this to say last night when speaking to Cate Campbell on Seven.
Read the full story about Chalmers' struggles in Birmingham here.