When it broke the news, The Australian Financial Review's Street Talk column said the decision was "welcomed by a growing cohort of the firm's lawyers who were increasingly uncomfortable with its work defending the church against child abuse claims".
Younger lawyers in particular were uncomfortable with the connection and reluctant to do the work, and the firm believed this was also affecting Corrs' appeal to graduates as it sought to rebrand itself as a top-tier commercial firm.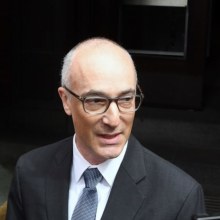 While Corrs only did compensation work for the Melbourne archdiocese, in Sydney it handled almost all its legal work, an account that rival law firm chief executives estimated to be worth at least $3 million.
The church was disappointed there was no prior consultation, and dismayed when the firm tried to cherry-pick the work it would do, especially as it has a long-time client in British American Tobacco.
Corrs also kept his partners in the dark, including Richard Leder, the church's main contact at the firm for child abuse claims for more than 25 years.
Mr Leder was the architect of the Melbourne Response of 1996, the first compensation scheme in the world set up by a church. It is not clear whether he will join Dentons or keep working for the Melbourne archdiocese at another firm. He is unlikely to stay at Corrs.
Mr Digges, the Sydney Archdiocese's executive director, administration and finance, said the church would "cease all engagement" with Corrs.
"We are thrilled to be partnering with an Australia-wide legal practice that has a trusted reputation of excellence, prudence and probity around the world," Mr Digges said.
"The Catholic Church in Australia remains committed to continuing responsibility towards survivors of historical abuse, while also providing relief, reassurance and support to all of those currently struggling in society today.
"We would like to thank Corrs Chambers Westgarth for their service over the past 20 years."
Doug Stipanicev, the chairman of Denton's Australia, said the firm was "grateful to have demonstrated their suitability and commitment to the role".
"With the Catholic Church being the country's largest non-government provider of education, health, aged care and social services, we bring a diverse range of skills and experience needed to support the Archdiocese of Sydney."
Corrs chief executive Gavin MacLaren has declined to answer any questions about why he asked the church to move all its abuse claims work to other law firms.
The most recent statement put out by the firm last Wednesday said "Corrs continues to act for the Catholic Church" and that "Richard Leder remains a partner at the firm".