Mining tycoon Clive Palmer and WA Premier Mark McGowan defamed each other, the Federal Court has found, in a war of words over WA's hard border and a damage claim for a failed mining project worth up to $30 billion.
Key points:
Both Clive Palmer and Mark McGowan were awarded damages
The case related to comments made after the closing of WA's borders
Costs will be assessed at a later court hearing
Mr Palmer was awarded $5,000 while Mr McGowan won a counter-claim of $20,000, in a judgment handed down by Justice Michael Lee today.
Mr Palmer launched legal action against Mr McGowan after a series of comments made at press conferences in 2020, during the early days of the coronavirus pandemic.
The Queensland mining magnate told the Federal Court he was brought into "hatred, ridiculous and contempt" after Mr McGowan called him an "enemy of the state" over his challenge that sought to overturn WA's hard border policy.
Mr McGowan counter-sued Mr Palmer over comments centered on legislation that prevented the Queensland businessman from claiming up to $30 billion in damages over a mining development by his firm Mineralogy.
Justice Lee said when assessing damages, he considered the fact much of the public would already have "well-entrenched perceptions" as to the character and reputations of political figures.
However, when deciding damages for Mr McGowan, Justice Lee said although the damage to his reputation was "non-existent", "Mr McGowan's evidence as to an aspect of the subjective hurt he suffered was compelling".
In delivering his judgement, Justice Lee noted the significant costs incurred in prosecuting this case.
"The game has not been worth the candle," he said.
"These proceedings have not only involved considerable expenditure by Mr Palmer and the taxpayers of Western Australia, but have also consumed considerable resources of the Commonwealth," he said.
"Importantly (they have) diverted court time from resolving controversies of real importance to persons who have a pressing need to litigate."
At a press conference, Mr McGowan said the last thing he wanted to be doing was fighting a defamation action, adding the start of the pandemic was a "highly anxious time".
But he defended the steps he took in putting in place the hard border and mineralology legislation.
"I'll go to my grave proud of what we did," he said.
"I actually think it was one of the proudest moments, that and the hard border, in recent West Australian history."
The court will reconvene at a later date to assess costs, which are expected to far outstrip the damages awarded.
McGowan, Palmer chose 'hurly burly' of political life
In his ruling, Justice Lee referred to conservative British MP Enoch Powell's remark "for a politician to complain about the press is like a ship's captain complaining about the sea".
"As these proceedings demonstrate, a politician litigating over the barbs of a political adversary might be considered a similarly futile exercise," Justice Lee said.
The judge said Mr McGowan and Mr Palmer chose to be part of the "hurly burly" of political life, despite Mr Palmer resisting characterization as a political figure.
He described Mr Palmer as an "indefatigable litigant".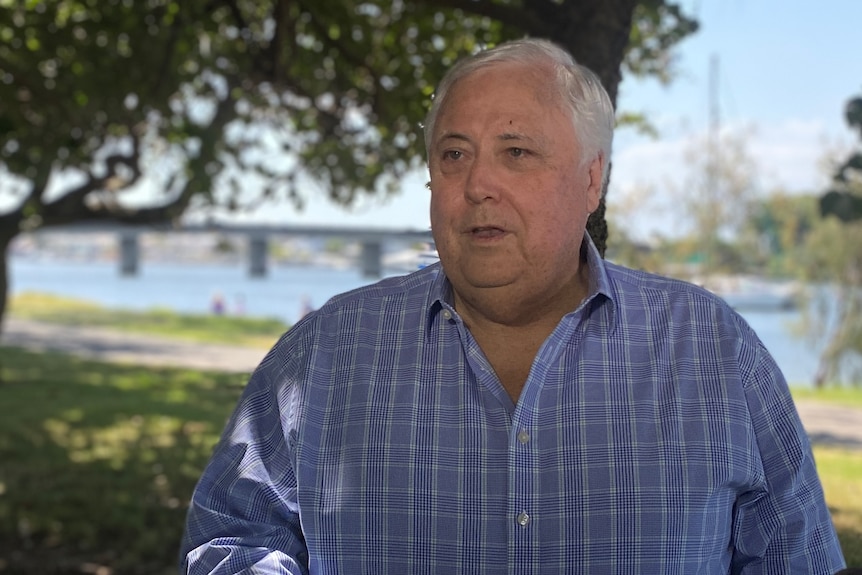 "This was evidently not his first experience in a witness box … he carried himself with the unmistakable aura of a man assured as to the correctness of his own opinions," Justice Lee noted.
The judge described Mr Palmer as a generally "combative and evasive witness" who on more than one occasion was unwilling to make obvious concessions.
He also rubbished Mr Palmer's claim he feared for his, his family's and his employee's safety and lives, after the Mineralogy legislation was passed.
"To even his most-rusted on partisans, Mr McGowan would be unlikely to have thought to resemble Ian Fleming's fictional MI6 character James Bond," Justice Lee said.
Justice Lee described Mr Palmer's evidence that Mr McGowan had been given a "license to kill" as "fanciful".
Feud erupts over WA hard border
The stoush began when WA shut its border to the rest of the country in 2020, which Clive Palmer challenged in the High Court, drawing the ire of Mr McGowan.
The court heard Mr McGowan made comments about an alleged plan by Mr Palmer to promote the drug hydroxychloroquine, which in the early days of the pandemic was briefly touted as a potential treatment.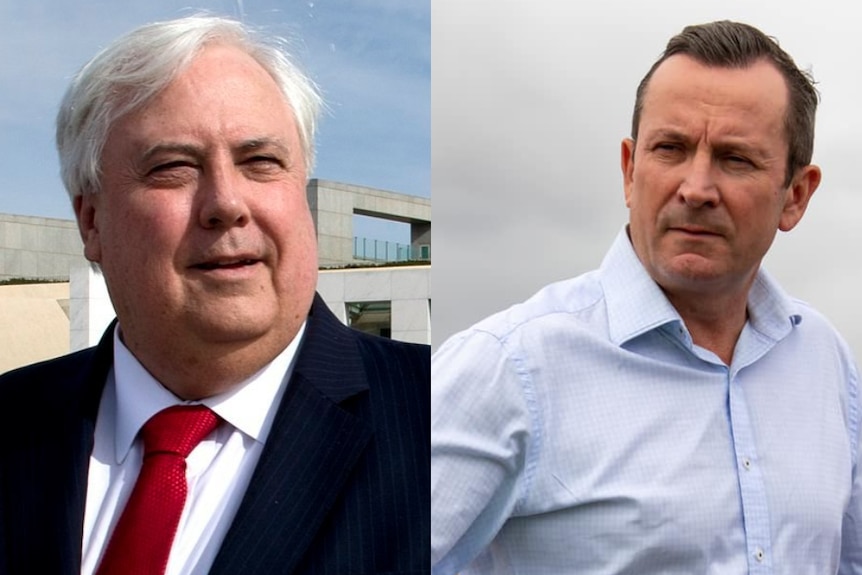 After a series of trials, it became clear the drug was not effective.
Mr McGowan told a press conference in August 2020 that Mr Palmer was coming to "promote" hydroxychloroquine, when all the evidence showed it was not a cure and was in fact dangerous.
In the defamation proceedings, Mr Palmer argued this implied he sought to harm the people of Western Australia by providing them with a drug he knew was dangerous and dishonestly promoted it as a cure for COVID-19.
Justice Lee did not accept this, saying "it is too much of a stretch to say that vehement disagreement with Mr Palmer's view conveys that Mr Palmer subjectively intended to cause harm or behaved dishonestly".
Multi-billion dollar mining damages claim at heart of case
The defamation proceedings also examined a state agreement held by Mr Palmer's company Mineralogy for the Balmoral South iron ore project.
Mr Palmer sought to develop that site in 2012 but was knocked back by the then-Barnett government, prompting him to launch legal action against the WA Government seeking damages for what he said was a breach of the state agreement.
The WA Government then passed extraordinary legislation that prevented Mr Palmer from succeeding in that claim, which was estimated at $30 billion, amounting to the state government's 2020 annual budget.
Mr Palmer lashed out at Mr McGowan as the architect of that legislation.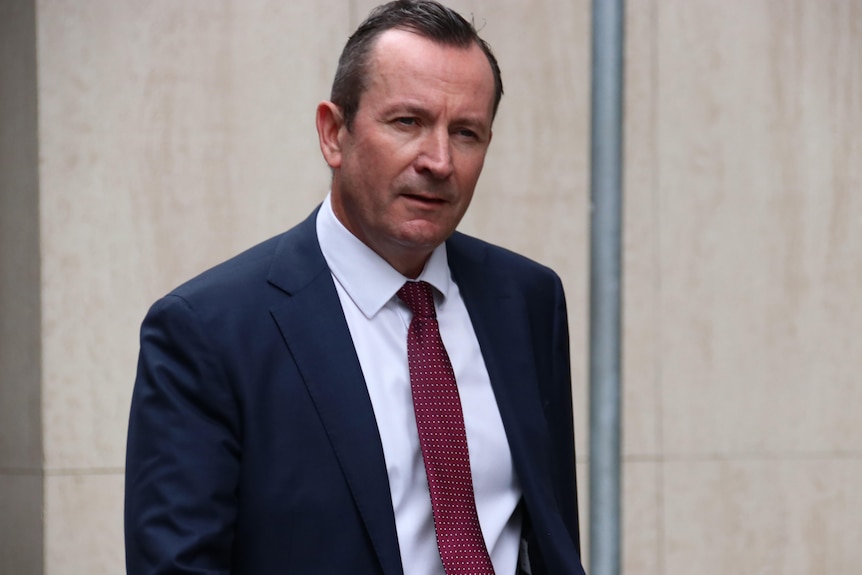 The court heard in an August 2020 interview with ABC radio, Mr Palmer described Mr McGowan as "an outlaw swinging his gun around to protect him and his Attorney General from the criminal law".
"What crime did you commit Mark, that you want to be immune from?"
Mr McGowan countered Mr Palmer on those and other comments, which he said suggested he had acted corruptly.
Palmer defamed McGowan for claiming he 'lied'
Mr McGowan also argued Mr Palmer had defamed him when he claimed he had lied about the health advice he relied on when deciding to close the state's border.
Justice Lee upheld that claim.
However, the judge said while Mr McGowan was generally an impressive witness, he "skirted" around the substantive question as to whether Dr Robertson, the Chief Health Officer, had given advice to this effect.
Justice Lee noted however that the impact on Mr McGowan's reputation was "inconsequential", citing his personal approval polling of 89 per cent and Labor's sweeping victory in the 2021 state election, in which he increased the margin in his seat of Rockingham to 37.7 per cent .
WA government's behavior 'highly disturbing': Palmer
Mr Palmer responded to Tuesday's finding by saying it highlighted the extent to which the WA Premier and Attorney-General had conspired in secrecy to change legislation.
This was designed to deprive Mineralogy of its property, according to Mr Palmer.
"Today's judgment in Sydney from Justice Michael Lee revealed that Mark McGowan and John Quigley plotted between themselves with late-night texts to have legislation changed," he said.
"It is highly disturbing that this is how the WA government acts."
Premier's relationship with media mogul under microscope
The very public spat played out in the Federal Court has also revealed aspects of Mr McGowan's relationship with the state's only daily newspaper owner, Kerry Stokes.
Texts between Mr McGowan and Mr Stokes were read in court regarding the introduction of legislation that prevented Mr Palmer from claiming damages in relation to the failed Balmoral South mining project.
A text from Mr McGowan flagged the legislation in question, which was a closely-guarded secret, just minutes before it was introduced to Parliament, saying he would call Mr Stokes to discuss.
Subsequent front pages of The West Australian newspaper featured images of Mr Palmer digitally manipulated to appear as a cane toad and a cockroach, prompting Mr McGowan to thank him for the "marvelous front pages".
At a press conference, Mr McGowan was asked a series of questions about the nature of his relationship with Mr Stokes.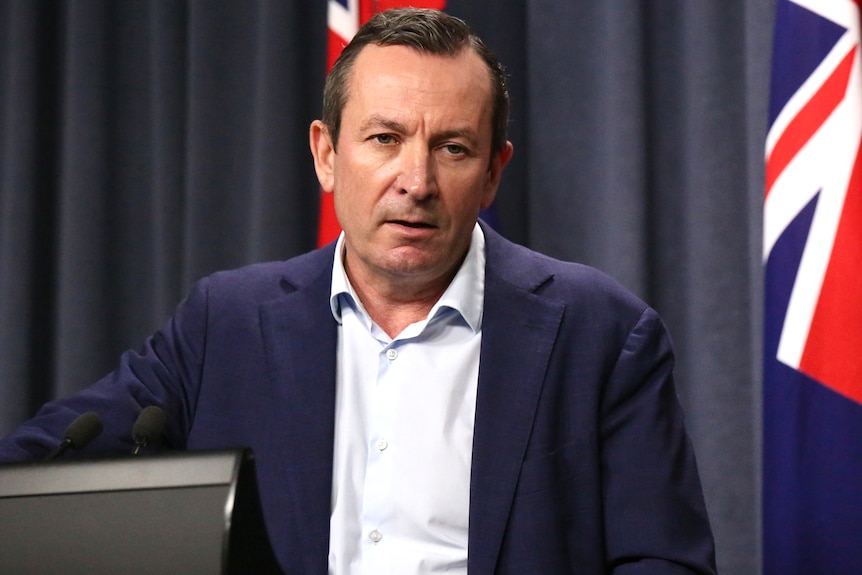 He denied Mr Stokes was one of the few people informed of the legislation before it was introduced, saying he had told the expenditure cabinet review committee on the previous Friday.
He said he briefed a number of people before the legislation went before the Upper House, including senior members of the federal government, state opposition, former Premier Colin Barnett, industry associations and groups and a "range of journalists".
The Premier said he rarely contacted Mr Stokes for advice or discussion around state issues, and could not remember if he called him that day.
Justice Lee also noted WA Attorney General John Quigley's evidence was "confusing" but he did not believe he was trying to be dishonest.
Mr Quigley later corrected evidence he gave at the trial, while insisting his evidence could be relied upon.
Opposition slams McGowan over trial
Opposition Leader Mia Davies said the trial was a "waste of money and the government's time."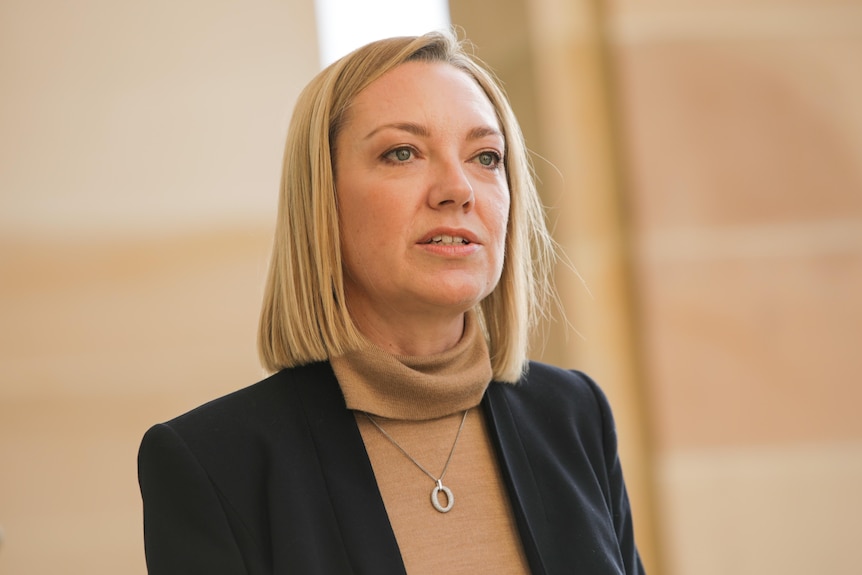 "This case wasted time that the Premier could have spent dealing with the multitude of crises on the home front in health, housing and easing the cost of living for everyday West Australians," Ms Davies said.
She called for Mr Quigley to be given the boot, saying the Premier "needs to wake up and take responsibility for his embattled Cabinet".
WA Liberals leader David Honey said the defamation trial was an insult to the WA taxpayer, who were "undeservedly footing the bill for Premier McGowan's bruised ego."
"WA's Premier needs to be leading the state, not embarking on unnecessary legal action," he said.
"The vanity exercise by the Premier has wasted considerable public money but also wasted, as Justice Lee highlighted, valuable court time for far more pressing legal matters affecting the lives of everyday Australians."
Dr Honey also called for the Attorney General's role to be immediately reviewed following his "memory failure" in court.
.