With that in mind, Cbus Property went back to the drawing board last year to rejig its plans for the 48-storey at 435 Bourke Street, on the corner with Queen Street in Melbourne.
While the developer already had an approval in hand for an office development across the four sites it had amalgamated, the "flight to quality" theme emerging out of the pandemic prompted a rethink.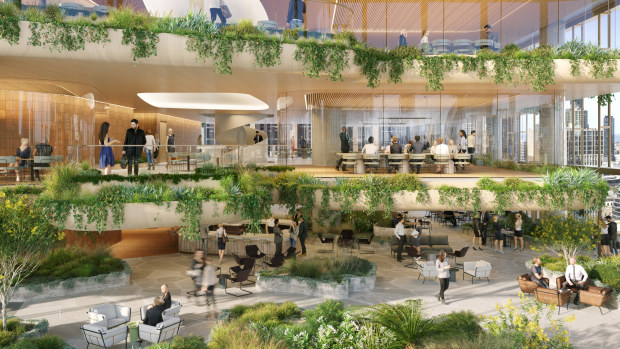 "Given people are still trying to get their minds around coming back to the office, of course it's a challenging market. But if you've got the best product out in the market, it should attract the right caliber of tenants," Mr Pozzo said.
Freshly approved by the state government, the Bates Smart-designed tower will comprise 60,000 square meters, enough room for about 5,500 city workers.
A key improvement to the design is a "solar skin" wrapping around the façade, that will generate about 20 per cent of the base building electricity requirements. The balance of the building, which is designed to achieve net-zero carbon in operation, will be powered by off-site renewable electricity.
Adding to the post-pandemic appeal of 435 Bourke will be a sky garden, along with several landscaped open-air and mixed-mode terraces as well as an atrium.
Such areas are a recognition that many staff are now more accustomed to working in informal settings, according to Mr Pozzo and Colliers' Andrew Beasley, who is managing the leasing for the new tower.
"We took the time to interview major occupiers over the COVID-19 lockdown period to learn what these organizations would like to see in a new development in a post-COVID world," Mr Beasley said.
All going to plan, demolition will finish by early next year, allowing construction to begin on the tower which could be completed by late 2026.