The football world has been split on whether Cripps deserves to be suspended. Should his appeal fail, it will be a major hit to the Blues' finals hopes. They are clinging to seventh spot and are already missing injured on ballers George Hewett and Matt Kennedy.
Co-vice-captain Sam Walsh said the Blues were embracing the added pressure heading into Saturday night's clash against Melbourne at the MCG.
"We have to embrace it as an awesome opportunity," the prolific midfielder said at Ikon Park on Tuesday.
"I've been at the club now four years, and this is the opportunity we've been asking for to be able to play in these big games in front of big crowds. I'm going to see it as time for us to really stand up and we're going to take a step forward in the right direction this week.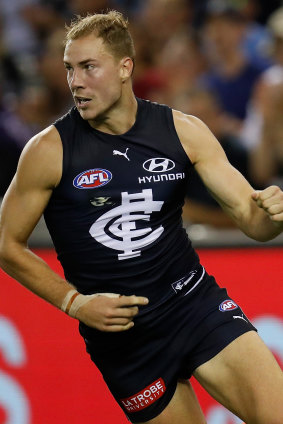 "We would have killed to be in this position in past years, so we just have to have some optimism in the way we want to go about it."
The Blues started the year 9-3 and were in the top-four hunt a fortnight ago, before back-to-back losses to Adelaide and Brisbane left them vulnerable to miss the post-season.
They have slipped in several statistical areas, including a marked difference in scores from turnover differential, uncontested marks and overall pressure rating in defeat when compared to victory.
Should they lose their final two games to the Demons and Collingwood, they face the real risk any two of Richmond, St Kilda and the Western Bulldogs jumping them into the eight.
They have won only four of their past 10 matches but reigning Coleman medalist Harry McKay insisted they would still consider their 2022 campaign a success even if they failed to make the finals.
"I judge success in terms of our environment that we've created," McKay told Fox Sports.
"The last couple of years, we've probably struggled in terms of culture, environment, putting in a really solid game plan.
"Whatever happens for the rest of the year, that's outcome-based, but for me as a player that's been there seven, eight years, this 12 months has been a success and whether that comes [to] finals or whatever it is, we've taken a really big step into the right direction.
"[Coach Michael Voss] talked about it, hopefully it's a long book and this is just chapter one, we want to finish off the chapter really well, but it's definitely a success."
While admitting the consecutive losses had shaken the team's confidence, McKay stressed the importance of quickly regaining composure before two crunch games at the MCG.
The Blues haven't played in the finals since 2013, with only Ed Curnow from that semi-final among currently listed players.
"The last few weeks have been challenging and after a pretty solid first 16 to 18 rounds, it's been a little bit disappointing we haven't been able to play our best football," McKay said.
Keep up to date with the best AFL coverage in the country. Sign up for the Real Footy newsletter.