(Ace Bill Lawry said on the Twelfth Man: "Canary yellow! That's Australian gold my friend and don't you f—ing forget it!" )
The second moment of controversy came in the second set when the referee penalized Clancy for a "carry". In other words, she held onto the ball for too long when setting up Artacho del Solar for the money spike.
She eyeballed the ref and barked, "What was that? Are you kidding me?"
To his credit, he remained unmoved.
"They said I carried," Clancy said afterwards. "I DO NOT CARRY. There's always been a rule but they're being all sensitive on it. That was not a carry. I was pretty cranky. I think I have very good hands, so I get very insulted."
Artacho del Solar said: "I feel like he just wanted to get involved."
They said this with cheeky smiles, bless them, but there is some serious business at hand here at the former flea market, where a Mexican wave between points was the closest thing to an actual wave.
loading
Clancy (who wears her Indigenous pride on her painted fingernails) and Artacho del Solar (who is originally from Peru) paired up just before the 2018 Commonwealth Games on the Gold Coast, where they claimed silver.
Then came their heroics last year in Tokyo, when they captured the hearts and minds of those of us in COVID-19 lockdown in Australia, claiming silver once more. A medal of a different hue is on the agenda here in Brum.
Has their profile increased since Toyko?
"I'm not going to lie — it has," Clancy said. "I'm like, 'Why do you know who I am? Why are you talking to me?' Not in a bad way."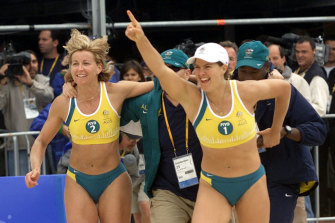 Do they cover the same attention as Kerri Pottharst and Natalie Cookwho won gold on Bondi Beach at the Sydney Olympics?
"Not at all," Artacho del Solar said.
And with that, the pair turned left and did a samba down the runway of the mixed zone and into the afternoon.
What a shame it wasn't a conga line. I would've joined in.
Their second pool match, against the pair from Trinidad and Tobago, is on Tuesday.
Bog standards
"Are you people of authority?" asked one female fan after the beach volleyball, looking at the accreditation lanyard around our necks.
No. We're reporters. Not authority.
"Well, report on the fact there are two toilets for women and four for men," she continued. "That's discrimination."
She has a point.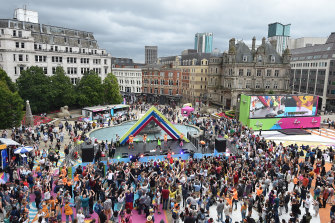 Of equal concern are the enormous lines for food and drink at every venue. Then there's the prices: $17 for "sausage and chips". You don't even get a piece of bread.
Football steals show
While Birmingham got around the Commonwealth Games, the rest of the UK got around England's women's football team in the final of the European championships.
England triumphed 2-1 after extra time in an epic final against Germany at Wembley.
The scene at the Craven Arms hotel was wild. "Well there's the headlines tomorrow," mused one local.
It was interesting to note that both captains wore rainbow-coloured armbands.
Amazing! Nobody died. Actually, nobody even spoke about it.
loading
THE QUOTE
"Bitter love triangle hits awkward Commonwealth Games squad — with links to Miley Cyrus." — Good to see British tabloid The Daily Star has toned down its coverage since Kyle Chalmers' impassioned plea for the media to leave him alone and be "positive".
THUMBS UP
Australia's women's sevens team won gold after beating Fiji in the final. Good times, classic hits.
THUMBS DOWN
england cyclist Matt Walls crashed into the crowd during the final lap of the men's 15km scratch race, leaving one young fan "covered in blood". Walls was trying to avoid another crash. The race was abandoned and a second cyclist, Matt Bostock from the Isle of Man, was taken away on a stretcher.