Sydney property prices have fallen their sharpest in 40 years as the national housing market nosedive picks up pace.
A market expert has labeled this downturn on par with the start of the Global Financial Crisis and the early 1980s crash.
The May interest rate rise was a trigger point, CoreLogic's Home Value Index for July has been found.
The median national home value dropped 1.3 per cent over July, CoreLogic reveals, which is the third month in a row of price declines. Over the quarter, national prices are down 2 per cent. The national median value is now $747,812.
This sits against a period of blistering growth during the pandemic where values ​​rose 28.6 per cent.
READMORE: Nervous buyers drop out of auction race for $2.41m Dulwich Hill house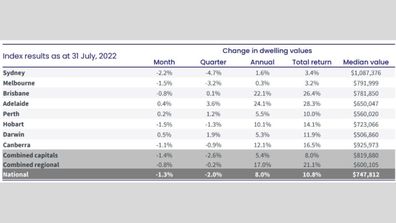 The glisten has also gone from the two-year long tree and sea-change price boom, with regional areas also in a value slide. However, capital growth outside of the metro areas is holding more tenaciously.
Although the Australian housing market is only three months into a decline, price tumbled have been aggressive. The property market cooldown is spreading beyond the high-value capitals of Sydney and Melbourne, according to the CoreLogic figures.
Five of the eight capital cities recorded price drops in July.
In Sydney, overall dwelling values ​​are down 2.2 per cent over the month, which represents a record-breaking slump (or 4.7 per cent over three months).
The declines are even deeper when broken down by houses, which have dropped 2.5 per cent in value over July, or 5.3 per cent over three months.
READMORE: Movie star David Wenham discreetly bought in Brisbane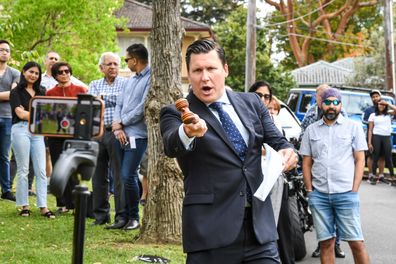 CoreLogic research director Tim Lawless said housing values ​​had "weakened sharply" since the Reserve Bank lifted the nation's cash rate in May, for the first time after a 12 year honeymoon.
"The rate of growth in housing values ​​was slowing well before interest rates started to rise. However, it's abundantly clear markets have weakened quite sharply since the first rate rise on May 5," he said.
"Although the housing market is only three months into a decline, the national Home Value Index shows that the rate of decline is comparable with the onset of the global financial crisis in 2008, and the sharp downswing of the early 1980s.
"In Sydney, where the downturn has been particularly accelerated, we are seeing the sharpest value falls in almost 40 years.
"Due to the record high levels of debt, indebted households are more sensitive to higher interest rates, as well as the additional downside impact from very high inflation on balance sheets and sentiment."
READMORE: The shocking number of Australians at risk of mortgage stress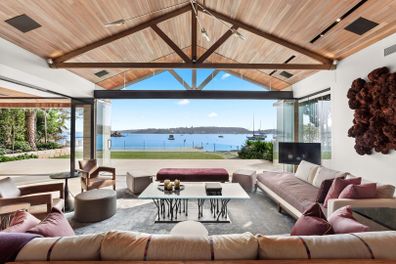 In Melbourne, values ​​dropped 1.5 per cent over the month and Brisbane reached a milestone of negative growth – down 0.8 per cent – for the first time since August 2020.
Brisbane had been considered a strong market even while the other eastern capitals had started to go backwards.
Hobart clocked at 1.5 per cent value drop and Canberra lodged at 1.1 per cent decline.
Perth, Adelaide and Darwin defied the downturn to register growth, but since interest rates have crept upwards, the speed of that growth is slowing down, CoreLogic found.
Perth clocked 0.2 per cent growth over July, Adelaide's market rose 0.4 per cent and Darwin had 0.5 per cent growth.
READMORE: Melbourne's Autumn House has been crowned Australia's best home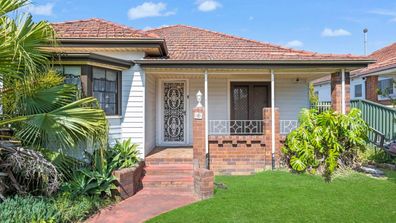 In regional areas, the combined dwelling median experienced its first decline since August 2000, sitting at 0.8 per cent less, month-on-month.
Regional Victoria (-0.7 per cent), New South Wales (-1.1 per cent), Tasmania (-0.6 per cent) and Queensland (-0.7 per cent) all experienced price declines. However, regional South Australia (up 1.1 per cent) and Western Australia (an increase of 0.1 per cent) were the exception and made capital gains.
CoreLogic found most regional centers close to capital cities, which attracted strong migration during the pandemic, have posted decreases in home values ​​in the three months to July, ending a two-year run of growth.