Two potential buyers dropped out of the race for a Dulwich Hill house that still sold for $2.41 million at auction on Saturday, amid buyer caution ahead of yet another expected cash rate increase this week.
Five local families turned out to compete for the charming four-bedroom period home, complete with a white picket fence, but bidding for 65 Windsor Road was slow to start. Some interested parties ditched their plans to bid and watched from the sidelines.
The home was one of 537 Sydney homes scheduled for auction on Saturday. By evening, Domain Group had recorded a preliminary clearance rate of 55.7 per cent from 348 reported results, while 110 auctions were withdrawn. Withdrawn auctions are counted as unsold properties when calculating the clearance rate.
Auctioneer Clarence White, of Menck White Auctioneers, had to urge interested parties to take action before securing an opening offer of $2 million. He then called the property three times before a second bid of $2.05 million was made.
The pace picked up from there, with four of the five registered bidders pushing the price up in mostly $50,000 increments to the $2.35 million reserve, after which the bidding slowed to $10,000 jumps.
READMORE: Time to chat about the groovy home feature making a comeback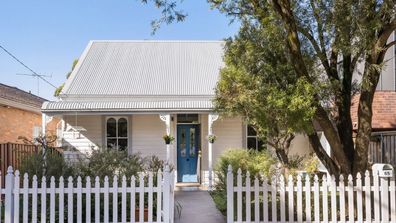 The 417-square-meter property sold to an upsizing local family. The result was $60,000 above the reserve price, and more than 13 times the $177,000 that records show it last traded for almost 30 years ago.
House prices in Dulwich Hill climbed 7.8 per cent over the year to June, reaching a median of $1.91 million, Domain data shows.
Seller Robert Drake was pleased with the result. He had already purchased a property in East Kurrajong to retire to with his wife from him and had some concern about selling in a cooler market, but he noted the pair had realistic expectations.
"We bought first and then sold, which becomes a bit nerve-wracking in a falling market, but it worked out alright," he said. "It's really nice to hand over our home to another family with kids."
Sales agent William Pereira, of Adrian William, had been expecting seven buyers, but two dropped out at the last minute, deciding to watch the auction from the sidelines.
READMORE: Opinion: Why the office commute is the most precious part of the day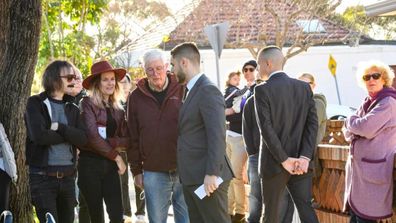 Pereira said news about rising interest rates and cooling prices had made buyers a bit more cautious in their approach, but noted there was still good buyer demand.
White expected it would be his strongest auction of the day, with only one to two bidders expected at the three other auctions he was calling on Saturday.
"It's really nice to have strong bidding… that's a rarity at the moment," he said.
While rising interest rates were putting downward pressure on prices, as they were affecting buyers' borrowing power, he felt the pullback in buyer confidence was having a larger effect.
"Buyers move in flocks, so the fact that everybody knows the market is going down, and the fact that they're anticipating it is going to go down further, is making everybody far less confident… it's driven by fear."
READMORE: Movie star David Wenham discreetly bought in Brisbane
In Wahroonga, a six-bedroom house with a tennis court sold for $13.03 million, setting a new suburb record and trading for more than $2 million above the reserve price.
Eight buyers registered to bid on 27 Braeside Street, which had a price guide of $10 million.
The bidding opened at $9 million, and climbed in six-figure increments, with three of the parties making offers. An expat family returning from Hong Kong won.
Records show the 2484-square-meter block last traded for $4,045,000 in 2017, when it was purchased by anesthetist David Woods and Alexandra Woods. The pair rebuilt on the block in 2020.
Selling agents Tim Fraser of Di Jones and Adam McKay of Ray White Upper North Shore said the result was well above their expectations.
READMORE: Top ten suburbs where property has gotten cheaper
McKay said many properties at that price level sold before auction, due to fear that there would not be enough competition.
"We knew we had the interest there, so wanted to have the auction. To get eight registered bidders on a property with a guide of $10 million shows… there's a lot of depth in the market for buyers at that price level," McKay said.
Fraser added that buyers of high-end homes had not been as affected by rising interest rates as other purchasers, and many had built up a lot of equity in their existing homes throughout the property boom.
Down south, a four-bedroom house at Taren Point sold for $1.85 million, well above the $1.35 million the home last traded for less than two years ago before an extensive renovation.
Of the six buyers who registered to bid on 34 Curtis Avenue, three made offers, with bidding kicking off at $1.6 million and initially increasing in $25,000 jumps.
Bidding stalled at $1.83 million, the highest bidder then increased their offer to the $1.85 million reserve price, following negotiations on the auction floor.
The 645-square-meter block sold through Trent Tarbey, of McGrath Sans Souci, to an upsizing family from Dolls Point. The sellers were also upsizing, to a home just down the road.
In Alexandria, a two-bedroom townhouse at 14/18-20 Newton Street sold for $1.14 million through Brad Gillespie of The Agency Eastern Suburbs.
First home buyers, upsizers and investors competed for the keys. Bidding opened at $900,000, and quickly passed the $950,000 price guide, with four of the seven registered buyers making offers. A northern beaches investor outbid locals to buy the 139-square-meter block.
The result was $90,000 above the reserve price, and well above the $640,000 the property last sold for in 2013.
This article first appeared on The Sydney Morning Herald