Australian renewable energy company Genex Power has rejected a proposed $300 million takeover offer from a consortium led by Atlassian co-founder Scott Farquhar's private investment firm, but says it remains open to a revised proposal.
ASX-listed Genex Power, which has $1 billion of renewable energy assets across Australia, told the market on Monday the 23¢ a share bid from Farquhar's Skip Capital and global alternative investment firm Stonepeak undervalues ​​the company.
"However, the board is willing to constructively engage with the consortium to explore whether the consortium can submit a revised proposal that is capable of being recommended to Genex shareholders by the board," the company said.
Genex Power is the only pure renewable energy and storage company on the local sharemarket, with a key asset being its Kidston pumped hydro storage project in far-north Queensland within its Kidston Renewable Energy Hub.
The company also operates solar, wind and battery storage projects in the state, while also managing the Jemalong solar project in NSW.
Billionaire suitor Farquhar – who started software giant Atlassian alongside fellow clean energy advocate Mike Cannon-Brookes – co-founded Skip Capital with his wife and former investment banker Kim Jackson, who now heads the fund, in 2017. The investment firm says it invests in high-growth technology companies and "future-aware infrastructure projects".
Genex Power said it would now provide the bidding consortium with "certain limited due diligence information" to help submit a revised takeover offer for the company. The company said it had an attractive future with 100 megawatts of existing solar projects benefitting from currently high energy prices, while it had 300 megawatts of renewable energy storage under construction.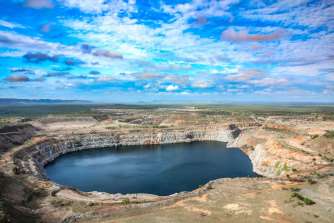 The renewable company's shares rose significantly after the takeover bid was announced at the start of last week, jumping from about 13¢ a share to 22¢ – a price not seen since October last year. Genex Energy shares were relatively unchanged on Monday after the company announced the bid had been politely rebuffed, eventually closing 2.3 per cent lower at 21¢ a share.