During the pandemic, many of these families suddenly received an extra $250 a week. Of that, perhaps $150 went to the gap in their rent that the government's rent assistance didn't cover. That left $100, which suddenly meant, says Wren, "you could buy your kids warm pajamas, stock up on birthday presents so your kids could go to birthday parties." Then the $250 was cut back drastically, leaving those families pretty much back where they were: "mothers pretending to their kids that they already ate while they were cooking".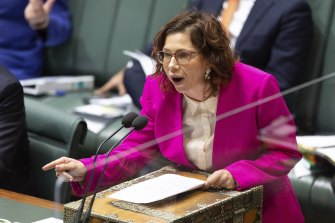 Wren's reference to "mothers" is not an accident. This is where the anti-poverty agenda meets the government's concerns about gender and domestic violence. Women are more likely to suffer poverty. And if we zoom in on children, then, again, we see that while 80 per cent of single-parent families are headed by women, that rises to 95 per cent for the poorest single-parent families.
Then you have the fact that a significant number have left violent partners, and need income support, which is inadequate. The knowledge that the social safety net is – rather than catching you – "going to plunge you into poverty", says Wren, means that mothers are often faced with a choice: violence or poverty.
In other words, an increase in payments like JobSeeker and rent assistance fits squarely within Labor's existing aims: on gender, on childhood development, on domestic violence. Or, in the broadest sense, within what Anthony Albanese told his caucus last week: Labor's responsibility as the party "that seeks to change existing power relationships in society in favor of more equality and in favor of fairness".
Ministers do get asked about JobSeeker from time to time. So far, the signs are not great. The Minister for Social Services, Amanda Rishworth, gets asked most often, and tends to refer to budgetary pressures, as well as what the government is already doing (social housing, bringing medicine prices down). The Treasurer, Jim Chalmers, emphasizes budget constraints.
Frustratingly, the most urgent argument for increasing these payments – inflation, which is leaving poor people even poorer – can also become an argument against the increase. Won't put extra money into the economy add to inflation? The economist and former Labor adviser Angela Jackson acknowledges there is a balancing act. Adding to inflation is a factor, but that is precisely why, rather than providing broad support, you have to target it to those who need it most. The most vulnerable need to be protected because they are not in any position to absorb the price hikes.
In the past few days, Albanese have begun to earnest their campaign for the Indigenous Voice to Parliament. It would have been easy enough to delay, given the various crises his government confronts. Instead, some of the Prime Minister's better qualities have been on display: an understanding that pressure for change often has to be built by government; his belief that more than one thing can be done at a time; and the mixed blessing of his rhetorical style of him, unlikely to make something sound inspiring but more than likely to make it sound like common sense.
These qualities could be used to justify an immediate increase in payments for those living in poverty. Or, at a minimum, they could be used to begin an honest national conversation about the child poverty in our midst. At least then we could say that Labor had taken a good first step. But so far, on this topic, we can't even say that much.
The Morning Edition newsletter is our guide to the day's most important and interesting stories, analysis and insights. Sign up here.