After delving into their partners' lives during the Life Swap Challenge, the contestants are feeling closer than ever as they head into the final week of Beauty and the Geek.
Our romantic couples come face-to-face with a relationship expert… well, host Sophie Monk, before we bid farewell to a much-loved pair.
Catch up on the latest episodes of Beauty and the Geek on 9Now.
But before we get to that the Beauties and Geeks have an exciting challenge ahead.
The six remaining couples must produce TikTok content for the world's fastest growing social media platform in a crazy video challenge.
Sophie needs a bit of help with this challenge and brings in one of Australia's most prominent TikTok stars, Millie Ford. Millie has amassed more than 1.4 million followers and is most recognized for her catchphrase, "Boys at the back."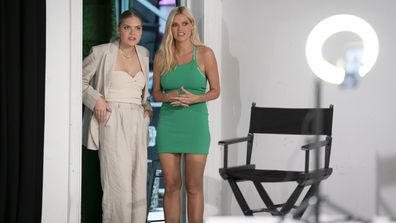 The Beauties are excited when they catch a glimpse of the TikTok star with Sophie before Millie tells the contestants to have fun with the challenge while being authentic, original and creative. Sounds easy, right?
The team with the best TikTok video win themselves a date, while the bottom two teams face elimination.
With only 10 minutes to come up with a concept and film their video, Millie and Sophie are left scratching their heads with some of the concepts.
Aaron and Karly recreate a scene from The NotebookAnthony and Tegan take a skit from Harry Potter… and we're not sure what some of the other contestants' concepts are.
But there is one TikTok that "kind of made sense" and that is Emily and Jason's.
After surviving the last two eliminations, Emily and Jason finally head out on their long-awaited date. Instead of a Geek organizing things, Emily takes the reins and organizes a fun ice-skating outing for the pair.
After seeing how much of a kind soul Jason is, it opens the Beauty's eyes to how she should be treated.
Emily then makes an emotional admission about how being bullied during her childhood and previously being in bad relationships led to her struggling with her self-esteem.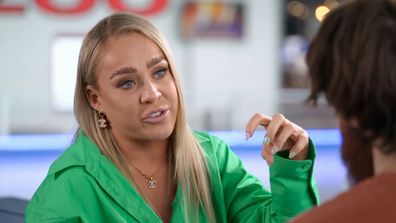 "Even though I have this big confidence on the outside, the outside doesn't always match the inside," she reveals.
"When I look in the mirror, I see a lot of flaws, and I feel like it's because my past relationships have really made me feel like I need to look a certain way to be loved."
The pair feel like they've grown closer to each other from this experience, with Jason realizing just how much they have in common.
It would usually be time for a Mixer, but Sophie pulls aside our two romantic couples to help them gain an insight into what their relationship will look like outside the experiment.
It's feeling a lot like a Married At First Sight Commitment Ceremony with Sophie's set up. The host-turned-relationship-expert calls her first couple to the couch – Mike and Heidi.
The pair admit they see their relationship continuing on the outside world and gush about how close they've become.
Michael and Tara are the next couple to join the session.
Dr. Monk plays a game of 'Slow' or 'Steady' – much like a MAFS 'Stay' or 'Leave' situation – where if they write 'Steady', it means they want to make their relationship official, and 'Slow' is to keep things the way they are.
Michael reveals he was not expecting to find such a connection with someone, and admits he wants to take the next step in their relationship by showing his envelope.
"I met a girl that compliments me in all the best ways, I was not expecting this," he says.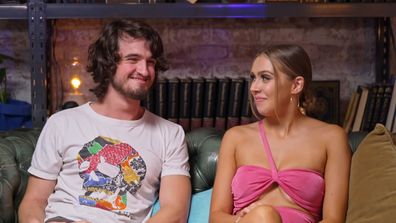 After a nail-biting wait, Tara turns around her envelope and it's a sigh of relief for Michael as it says 'Steady'.
Admitting they can clearly see a future together, Tara reveals Michael has made her believe in love again.
"I've met a guy who actually made me believe in love again, so that's pretty special," Tara says.
Now it's time for the Mixer, and to find out which two pairs will fight it out to stay in the competition.
Sophie reveals Chris and Bri and Mike and Heidi are the bottom two who will face her elimination quiz.
The first couple to reach five points is saved from being sent home.
In Pictures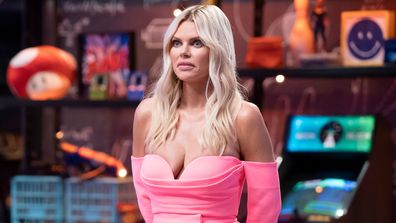 All of Sophie Monk's best looks
Latest frock pays tribute to her wedding day.
ViewGallery
Both couples are neck-in-neck during the intense three-round quiz, and it looks like anyone's game right up until the end.
But it's Bri and Chris who manage to steal the final point, which means Mike and Heidi's journey comes to an end.
There's not a dry eye in the room as the contestants farewell the Beauty and Geek, who intend to continue their romantic relationship on the outside.
Beauty and the Geek continues Monday to Wednesday at 7.30pm on Channel 9 and 9Now. Catch up on the latest episodes of Beauty and the Geek on 9Now.